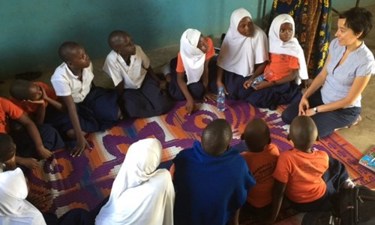 Lucina Di Meco visiting GIrls' Education participants in Kibaha, Tanzania
My father was one of four kids raised in a home with no running water and no electricity. His small village in Abruzzo, Italy did not have a secondary school and so, to continue his education beyond 8th grade, he moved in with his aunt in a nearby town. After becoming the first child in his hometown to complete high school, he went on to become an accountant. Thanks to that secondary school degree, coupled with his intelligence and persistence, my father secured a job at a prominent Italian bank and later become a successful entrepreneur, creating jobs for others and supporting the growth of his community. 
My father died before he could see me, his youngest daughter, graduate from high school but his values and unrelenting pursuit of education has stayed with me throughout my life. I followed in his footsteps and moved from my hometown to a larger city in Italy to attend university, continued to England for my master's degree and finally, traveled to Mexico and the United States to build a career in international development.  
As a young girl and later as an adult woman, the challenges I faced in and out of school were different than the ones my father had to overcome. I had access to resources but like my father, lacked agency and institutional structures to provide the necessary encouragement and support for my development. I grew up in a culture that gave contrasting messages around women's worth and opportunities. While there were women in positions of power and influence in politics and business in the places I lived and worked, they were fewer in quantity and diminished in visibility as compared to their male counterparts. Frequently, I found myself struggling to dream big and lacking self-confidence, female role models and basic information on how to pursue paths to personal development and professional success as a woman.  I am proud of who I have become today, but it took me longer than I wished it had to begin to realize my potential.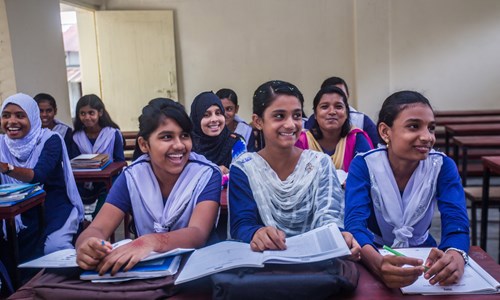 Still, having been born in Italy in the 1970s to a middle-class family, I was incredibly lucky. In many low-income communities around the world, girls face incredible challenges and undue pressure as they struggle to complete secondary education and acquire the skills they need to make informed choices about their lives. Girls make up a disproportionately high number of illiterate youth, they are more likely to be out of school, and less likely to complete school. Despite the knowledge that investing in girls' education is the best investment a government can make to improve its economy, public health, literacy and gender equality rates, and even its ability to adapt to climate change, girls in many hot spots around the world are bumping up against an educational glass ceiling.    
Through years of work in girls' education globally, I have witnessed the gender-specific challenges adolescent girls face when trying to stay in school and receive the quality education that will enable them to become independent and engaged member of society. Secondary school is a particularly critical time for many girls, as this is the time when cultural and societal practices devalue their education, pressuring them to marry young and begin a family.  Lack of positive role models and extreme poverty also push girls out of school early and keep families trapped in a vicious cycle. Many girls in low-income countries do not have the skills they need to effectively respond to these challenges and negotiate with their families and communities about the importance of prioritizing education not only for boys, but also girls.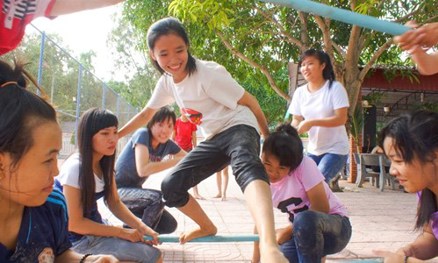 Every time I meet the girls supported by Room to Read as I travel to countries in Asia and Africa where we work—many of them coming from homes with no running water and no electricity, often the first ones in their families and sometimes their villages completing secondary school-- I think of my father and his incredible educational journey that made my own possible. While I am well aware that there are many differences between the challenges my father faced and the ones that these girls are up against, I also know that transformational change is possible in one generation. In my father's words, my higher education played a crucial role in "opening my mind" and in turn, has allowed me to help young women around the world open doors to opportunity beyond traditional gender roles. As Room to Read celebrates supporting 50,000 girls to realize their potential through holistic interventions which improve learning and life outcomes, I am proud to be an agent of such change.  
October 11th is International Day of the Girl. Give more girls the opportunity they deserve to explore our world and define their own roles in it. Make your donation at roomtoread.org/support-education/