In 2013, Room to Read constructed 18 schools and established four school libraries in the Vientiane and Oudomxay provinces in Laos. Though none of these projects were particularly easy, one school construction project in the Oudomxay province proved particularly difficult for our Laos team. Boualikanh Konechanh, a program office for Room to Read pointed out, "One of the most challenging schools to construct this year was the Phousing Complete Primary School in Phousing village."
Phousing village, even though it is on a plateau, is difficult to get to as there is only one seasonal road that leads to the village. "The road disappears with the rains," Boualikanh explains. "Every year during the monsoon, the Beng River submerges the road, making it even more difficult to access the already remote village."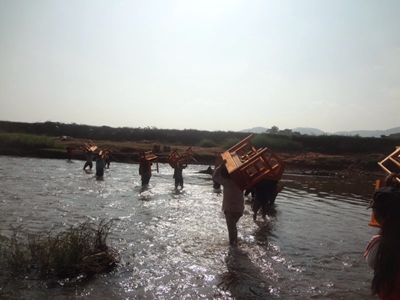 Despite this, Room to Read Laos still agreed to partner with the local community to construct the school building. As with all our school construction projects, 12 individuals from the village were selected to lead the project as part of the "Construction Committee."
Once construction started, it was a race against the clock to finish the school before the monsoon arrived and more importantly, before the school semester began! "I have never worked with such a passionate group of people before," said Boualikanh. "The way they worked in unison was very motivational."
The Construction Committee successfully completed the school without a hitch. All that was left to do was furnish the school.
Unfortunately, then the heavy rains began and the project was put on hold. The team patiently waited for the rains to subside and when they did, the team quickly loaded a truck with all the benches, blackboards and chairs and carefully drove across the dirt road, still wet and muddy from the rains. Just three kilometers from the school, the truck's front tire sank in the mud and refused to budge. The Construction Committee leaped into action and asked for the villagers' help.
In a moment's notice, more than fifty villagers reported on site for duty. They unloaded the furniture from the truck, carried across the nearly raging river and made a beeline to Phousing Complete Primary School.
Within two hours, all of the furniture was in place at the newly constructed school. "We dropped everything and came to help the school when the Construction Committee asked for our help," say Deng and Panh, a couple whose daughter attends the school. "It was important for us to get the furniture in the school before it rained again."
"When towing the benches, all we could think was how happy the children would be studying in their new school, sitting in new benches and reading from the new blackboard. They have never had the chance to experience this before. Now when the school reopens, our children will be very excited. I know my daughter will be!"
Read more about our work in Laos.