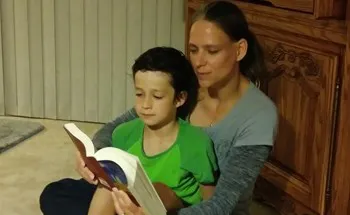 Become a game changer today
Earlier this week, I watched my son walk through the doors of his elementary school and joyfully head off to his first day of second grade. As I said goodbye and wished him a great day at school, I noticed myself hugging him just a little tighter and longer, knowing that this school year—one that is pivotal in his development of literacy skills, reading fluency and comprehension--will bring huge changes in the way he understands, and therefore functions in, the world around him. In the last few months, I witnessed his love of books blossom.  It is almost as if a magical literacy light switch turned on for him. I attribute this to great public school teachers supporting his skill development and family members sharing with him their own love of reading. He enjoys when I read aloud and these days, I often find myself sitting on the bathroom floor reciting the pages of The Lost Princess of Oz during bath time.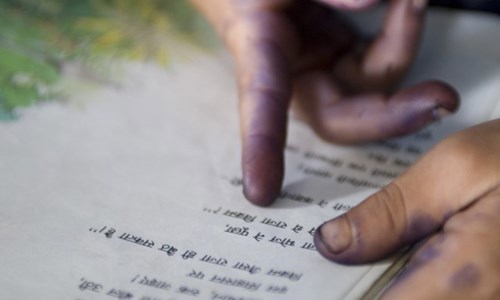 As a young child growing up in the Washington, DC area, the ability to read the written word offers my son a unique window into the world. It allows him to absorb not just newspaper headlines, but also words etched in our public monuments, posters at political marches, and signs at civic rallies. The information he gleans just from walking the streets of our active and politically-saturated city spark questions and conversations about the issues our country and the world are facing. Suddenly, I am the mother of a socially conscious and opinionated seven-year-old—a refreshing and terrifying occurrence. 
When my husband and I went canvassing during the 2016 presidential election, Scott wanted to know about each candidate and peppered us with questions as the election poll results came in. Months later, he stood beside me at the Women's March where he read the messages held up on poster boards by a sea of people walking past the White House. His curiosity, fueled by his burgeoning literacy skills, has allowed him to develop independent opinions and even at such a young age, encourages him to be an active participant in society.  
During a time in U.S. history when civic engagement in government seems more crucial than ever, I am pleased to see my son taking interest. I try hard to talk with him about the headlines he reads, including a discussion on equality after the tragic events in Charlottesville last month. Of course, there is no way of knowing if he will be inclined toward politics or even ultimately, where his ideology will fall. What I do know is that he will have the natural inquisitiveness and the functional skills to engage in an informed discourse on the future of our community, country, policy and legislation. That is nearly guaranteed because he will be literate and has been afforded the opportunity of a quality education.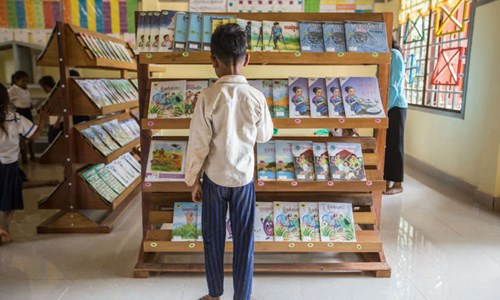 As the world is closely watching what is happening in the United States these days, I am reminded of the many places outside of the U.S. I have been where the role of literacy is pivotal in people's ability to develop a lifelong thirst for learning and in turn, actively confront the challenges facing their societies. In post-Khmer Rouge Cambodia, I am heartened to see communities rebuild their education system and place a high societal value on the foundational learning skill of literacy. Only a mere generation ago, Cambodia experienced the systematic destruction of the education system, down to the family unit level, under the Khmer Rouge regime. And today, I can visit schools in Cambodia with lively bustling libraries filled with engaged children reading story books. The expanding culture of learning and literacy is inspiring.  
Literacy mobilizes the human spirit and provides the necessary tools for everyday people to move their community, and even their country, beyond its circumstances. Americans are writing letters and postcards as well as sending tweets to their senators and representatives in Congress.  Equipped with literacy, this citizen army is made up of educated youth and adults inspired to action. 
In cities like Washington, DC and in villages like Ta Menh, Cambodia, there is a global society of game changers standing up against unjust treatment in all forms—impacting history and our future. I know that the best thing I can do as both a mother and as a development expert working at an NGO is to ensure a generation of children around the world pack their books in their backpacks and head off to school, so they too can ask tough questions of parents and policy makers and share their own thoughts about what they are reading and seeing. 
I am inspired to take Scott to the Martin Luther King Jr. Memorial where he can read the sage words excerpted from the 1964 Nobel Peace Prize acceptance speech, now etched in stone: "I have the audacity to believe that peoples everywhere can have three meals a day for their bodies, education and culture for their minds, and dignity, equality, and freedom for their spirits."  Through the deployment of his literacy skills, my son's character is being shaped. And so, when I hug my son goodbye tomorrow morning, I think I will nudge him into that classroom with a little more urgency.  
International Literacy Day is September 8th. Become a game changer today and equip children with the literacy skills they need to become active, empowered and responsible citizens.