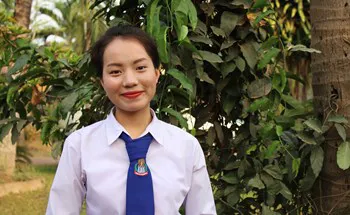 When was the last time you overheard a teen girl comfortably talk about menstruation?
"Phimya, can you tell the class what you think?" the teacher asks from the front of the room.
Sitting in the back row, all eyes dart towards 12 year-old Phimya.
She can feel it happening again – her throat tightening, heart racing, her face growing red.
It's the reason she sits in the back of class each day, hoping to hide behind the rest of the girls who natively speak Lao.
Phimya says the sentence in her mouth once, twice before any words come out. And as soon as she finishes her answer, giggles erupt from both side of the room.
"We can't understand what she's saying!" a boy yells from the front row.
Moments like this have taught Phimya to keep quiet.
Finding it difficult to communicate with anyone in Lao, the country's official language, she often sits alone in class and at break time.
Growing up in a Phounoy ethnic group in Oudomxay province, Phimya learned Lao late in life, creating a steep language barrier at school. With 220 dialects spoken in Laos, this is an incredibly common problem for children in rural regions.
"Before I joined the Girls' Education Program, I was shy because I didn't speak Lao well and I often wore old uniforms," says Phimya.  "When I spoke Lao, my friends often laughed at me and said, 'this girl doesn't speak clear!' I felt shy and very intimidated."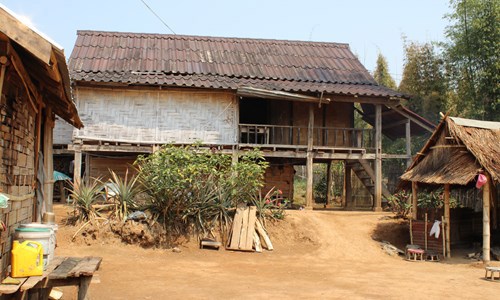 Growing up in a poor farming family of eight children, she often wore old uniforms to schools. Ashamed of her speaking and poverty, she lacked confidence and motivation.
When she was 12 years-old, Phimya not only received material support through the Girls' Education Program, offering study materials, school uniforms, and a bicycle to get to school, but also a social mobilizer who taught regular life skills classes to help her navigate key decisions.
 "Phimya was a girl who really benefited from the 'My Rights' life skills class. It was the first time someone told her she had rights like everyone else," says Phoungmalay, a Girls' Education Technical staff member in Laos.
Instilling Equality in the Classroom
The purpose of the 'My Rights' class is to teach girls their human rights, reminding girls it does not matter if you are young or old, rich or poor, a girl or a boy. Universal human rights belong to everyone, no matter where in the world you live. They come to realize everyone has the right to be safe and have their basic needs met.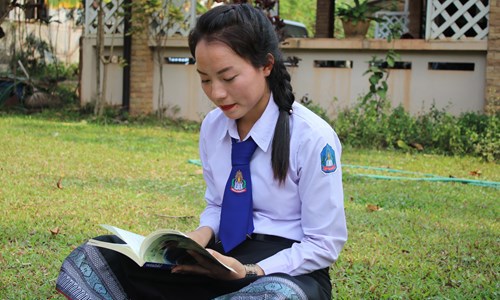 "The Life Skills training changed my life," says Phimya. "After I joined the program I became confident, studied better and got along well with friends. I realized that even though I am from a tribe, I have equal rights to other children in community. I started answering the teachers' questions even if others laughed at me. Now I am confident. I know I have rights just like them."
Flourishing into a class leader, Phimya soon earned A's on every final exam and was selected as an outstanding student in Physics from grades 9 through 12.
Today, Phimya is the only one out of her eight siblings to complete secondary school and go onto college at National University of Laos.
"I am proud of Phimya," says her father, Bualee. "I  also really appreciate the support from Room to Read."
Having experienced the power of mentorship and life skills, Phimya plans to help more children in Laos grow just as she has.
"In the future, I would like to work to help poor people in rural areas, especially in educational development. I would like to be the one who can give back to people in my own community."
Since moving from the rural north to the country's capital, Phimya is not only the pride and joy of her family, but the proud of the culture she comes from. She's currently in her first year in university, where she's studying Social Work.
Room to Read has been supported more than 2,560 girls in Laos by closely collaborating with Ministry of Education and Sports to implement the Girls' Education Program in Xayabouly, Oudomxay and Saravan provinces.