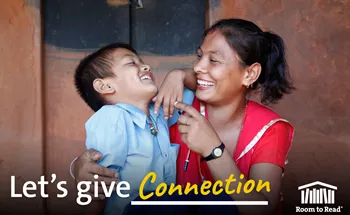 Give with Purpose. Give Education
In Nuwakot's Shree Chandi Adharbhut School, Nepali children aren't the only ones who love Room to Read's storybooks. Parents, like Saraswoti, also find inspiration in these brightly colored books.  
"I used to hear a lot about picture books from my son. It sounded interesting. So one day, when I went to drop off him at school, I asked his teacher for those books," says Saraswoti. "I flipped through the pages and absolutely loved them."
Samit, Saraswoti's first grade son, is an avid reader who is constantly looking to get his hands on new stories. 
"He always has his eyes on new books on the shelves. He finishes his assignments first, so that he can read storybooks in the remaining minutes of class," says his teacher.
In the beginning, Saraswoti was worried whether she'd be able to instill strong reading habits in her child. During primary grade years, many children have difficulties learning to read or write. Saraswoti was one of them.
"As a child, I had trouble recognizing letters and could not easily pronounce words. It was then I started to read more books and improve my vocabulary," says Saraswoti. "I didn't want my son to face such trouble. A few times, I went to bookshops in search of children's books, but could not find an appropriate one. Maybe it's because we are living in the countryside."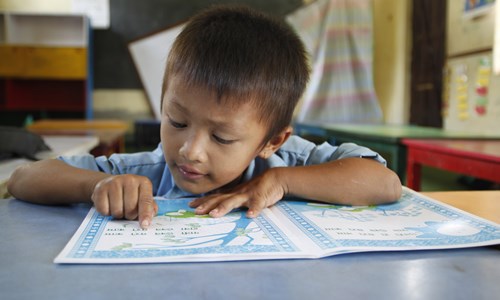 Now being just a classroom away from Room to Read's library, Saraswoti is thrilled her son has easy access to an abundant source of literary inspiration. Filled with vibrant designs and carefully chosen words, these books help students like Samit enhance their reading abilities by incorporating letters they've already learned.  
These books also cover locally relatable topics, capturing children's imagination and helping them see themselves in the story. This, in addition to Room to Read's Literacy Program, has proven to help early grade students develop a strong love for reading.
An independent study funded by the Bill and Melinda Gates Foundation surveyed children's reading habits, attitudes toward reading and reading skills from 2009-2012 in India, Laos, Nepal and Sri Lanka.
The study found 51 percent of children from schools with a Room to Read library were reading for enjoyment at school—compared to only 29 percent of children from comparison schools without a Room to Read library.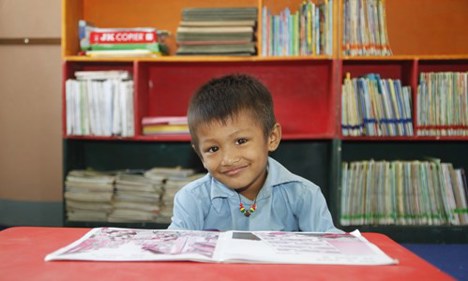 Sunit is a living example of these promising figures.
"Whenever I mispronounce words, my son immediately corrects me. In fact, I have learned a lot of new words from him. From names of animals to his story characters, I have learned a lot."
But books have brought more than just new words to their lives, it's also facilitated family connection. When her son brings home storybooks, Saraswoti and Samit sit down to read, and when home, her husband joins too.
"The books have helped Samit expand his knowledge and imagination," Saraswoti says. "They also have brought our family together."