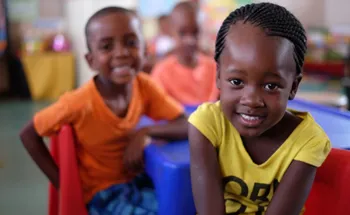 Explore Where We Work
Each year, our management team and country directors from across Asia and Africa gather to collaborate and focus on big-picture topics for the organization. This year's Country Management Conference took place outside of Mumbai, where it kicked off with a traditional welcome ceremony that included turban wrapping, henna tattoos and individual blessings.
"This really helps us focus our resources across enormous geographical areas and ensure we're all pulling in the same direction"Lynn FodenRoom to Read Chief of International Operations
This set the stage for the five-day retreat in which Room to Read's 10 country directors met with the global management team to brainstorm ideas and share best practices around this year's theme: Multi-year planning to scale effectively. In line with Room to Read's focus on creating long term systemic change, multi-year planning helps us align in-country operations with multi-year transformational investment in communities.
This will help Room to Read envision what a project or program at the country level will look like through, say, 2018 and how it can tie into key targets, such as Room to Read's goal of reaching 15 million children by 2020.
To help plan their multiyear strategies country directors are creating Country Strategy Reviews (CSRs) - roadmaps for where they want to be in five years. "Three countries – Vietnam, South Africa and Bangladesh presented their reviews to their fellow country directors and our management team, who were able to learn from them," said Tae Kang, Manager of International Operations.
What's so essential about bringing the country directors together with our leadership team in one room?
"Normally we're thousands of miles and many time zones apart. The Country Management Conference gives us the cohesive experience of being part of one organization and one shared strategy," said Tae, "that understanding of how each one of us fits in to a single, powerful mission - that's invaluable and you can't replicate it any other way."