Name: Peter Cooper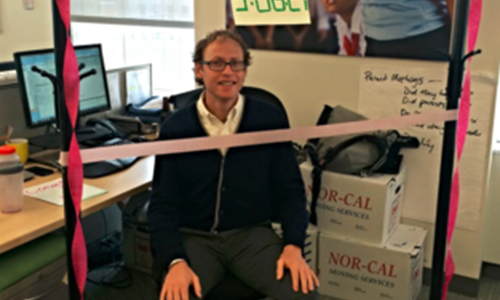 Peter has been an integral member of the RM&E team since he first joined Room to Read in February 2007. Over the past eight years Peter's work has focused on data analysis, research design and staff capacity building. He has been instrumental to many major projects, including a six country evaluation of our school libraries and reading skills evaluations. 
Q: Why did you decide to join Room to Read?
A: Before coming to Room to Read, I spent two years as a Peace Corps Volunteer in Cameroon, taught in a government school in Japan for three years, and went to Harvard University for a Master's in international education policy. I had my eye on Room to Read since finishing graduate school in 2005 because I was based in the Bay Area and have a strong passion for international education. Room to Read was still a start-up at the time, and that – along with its mission – really appealed to me. I actually applied for three other positions before I was finally hired as the Computer Room and Language Room Program Associate (now defunct programs) in February 2007.
Q: What do you love about your role at Room to Read?
A: As Associate Director for RM&E, I enjoy seeking answers to questions we have about our programmatic work and finding ways to further improve our impact on children. RM&E can be a tough job to describe to people, but I think of it as a mix between quality control and research and development. I get to manage and design research studies, work with global office staff and in-country colleagues, and hopefully make a difference in the lives of children. 
Q: What is the biggest challenge working at Room to Read?
A: It can sometimes be a pressure-filled environment because of the high expectations we have for ourselves. Most people at Room to Read are high achievers. As a result, we set a high bar and want to do A+ work every minute of every day. Given competing priorities both inside and outside of work, that's not always possible. I think this environment of achievement has allowed us to be very successful as an organization, but it can also occasionally cause some stress.
Q: Who inspired you to read as a child?
A: Actually, I didn't read very much as a child at all. It wasn't until I was in junior high school that I really began to enjoy reading. Specifically, it was after reading Orson Wells' Time Machine when I was in 8th grade. I couldn't put this book down and even read it twice! I think this is when my love reading really began.
Q: What do you like to do when you aren't working?
A: I like exercising, cooking, and (of course) reading.