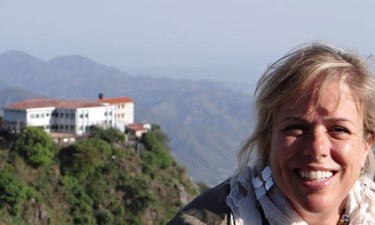 In April, Christine Beggs joined Room to Read as our new Senior Director of Research Monitoring and Evaluation.  She brings over twenty years of experience in international development and the private sector.  As the USAID Evidence Team Lead, in the Office of Education in Washington D.C., she directed monitoring and evaluation; strategic measurement and reporting; research; and M&E capacity building for the USAID education sector. As a senior program director at the Academy for Education Development, she designed and implemented projects focused on girls' secondary education, post-secondary transitions, and program and project evaluation.  Prior to that, in partnership with two other principals, she founded a consulting firm with annual revenues in excess of $11 million and over 80 staff members. She led the firm's data warehousing and decision support practice working with clients from public and private sectors. 
We're thrilled to have Christine on board and wanted to learn a bit more about her. Here's your chance, too!
How did you become passionate about education? 
CB: First, I became passionate about international development in general, because I truly believe that where you happen to be born should not dictate the opportunities you have in life. I also cannot imagine being a mother in a very poor country and not being able to secure a future for my children. Second, I believe that education is fundamental to all development goals – including creating a robust civil society and accountable political system, ensuring populations are healthy and productive and advancing equitable economic growth.
How did you decide to join Room to Read? 
CB: I was already aware of Room to Read's impact at the country level and stellar reputation for measurement and accountability. I was further encouraged when I had the opportunity to meet with a number of Room to Read staff during the interview process who were just so professional, open and committed to the mission. It was a team I wanted to be part of! 

As the Senior Director of RM&E, what are you excited to tackle first? 
CB: I'm very excited to dive into the details of our Research, Monitoring and Evaluation work at the global and country level and then define our strategy for how we evolve and expand our RM&E portfolio. We have such a terrific foundation to work from – I know we can contribute a great deal to the evidence base in the countries where we work in and the sector in general.

What is something you have done that you are really proud of? 
CB: I worked on a youth project in Rwanda for a number of years and helped establish an independent youth-serving organization that is now receiving funding from a number of sources and is led by a fantastic team of Rwandan youth. That is the best example of sustainable development that I have been involved in! 

What is your favorite book and why? 
CB: Anything by David Sedaris. Because I can't stop laughing, even when I look silly laughing by myself! 
What is something interesting that most people don't know about you? 
CB: I paint! I have always loved to draw, but about 10 years ago I started painting fairly regularly. I focus mostly on figures, but also paint still life studies. Over the past five years I have been photographing tree bark (which has fascinating textures, colors and patterns) whenever I visit a developing country. I am planning to paint a series of photo-realistic tree bark that evokes memories of a particular country's history and culture. Trust me, it will all make sense in the end…
Who has been an inspiration in your life and why?
CB: I tend to be inspired by many different people in many small moments. For example, when I am having a difficult day and feeling a bit sorry for myself, I might see someone with a disability achieving what seems to be the impossible, and with total grace. I find this both humbling and inspiring.

Why do you think data is so critical for creating change in education? 
CB: Data is critical in many ways. First, to raise awareness. With large-scale, country level data, policy makers must pay attention to the fact that many children are still left out of school and that many more children are in school and still not learning. Second, to make sure that we are investing scarce resources as efficiently as we can. Data on the impact and cost of programs is essential to improve outcome and scale effective models. I also believe that we need to do more to democratize data to empower students, parents and communities to assert their educational rights and influence country-level policies.