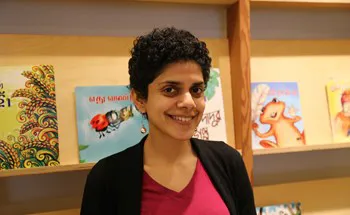 Help Christabel Eradicate Illiteracy
Christabel Pinto is a literacy and education specialist with more than 14 years of experience designing evidence-based education programs, teaching children, building the capacity of adults, and implementing comprehensive literacy interventions.  She provided technical leadership for Save the Children's Basic Education programs in Sub-Saharan Africa and Asia, and co-led the revision of their global literacy program based on evidence and feedback from implementing country office teams. Prior to Save the Children, she conducted teacher professional development programs and education research.  Christabel began her education career as a classroom teacher in Cairo, Egypt and New York City, and has developed Math, Science, and Sexual and Reproductive Health curricula for very young adolescents in New York City.  She has an MS in Education from Bank Street College of Education and an MA in International Education Development from TC, Columbia University.
We feel so lucky to have Christabel on our San Francisco-based team. Learn a bit more about her here!
CP: It gives me joy to facilitate and witness the growth and development of others, so the field of education was a natural fit.  I have no doubt that the path to a more peaceful, tolerant, and just society is through a quality education so working in this field always feels worthwhile. 
How did you decide to join Room to Read?
CP: Room to Read's development of in-country talent to create award-winning children's books in local languages is nothing short of magical!  Add to that a library program so that children have access to book choice and reading activities, a teacher development program so that teachers learn how to teach reading, and an exceptional team of hard-working, passionate, kind individuals.  It made for an easy decision.
As the Literacy Director, what are you excited to tackle first?
CP: I am now working to create more cohesion amongst the multiple parts of the Literacy Program that historically operated separately.  I am particularly excited about increasing the visibility of the literacy team's work externally.  While Room to Read has a loyal fan base, we are a small organization and not based in DC where many education non-profits have a strong presence, so the depth of our contributions remain a hidden treasure to many in the field.
What is something interesting that most people don't know about you?
CP: I grew up in a factory that built bus bodies in an industrial area of Dar es Salaam, Tanzania.  The surrounding neighborhood did not offer much by way of entertainment for a child, so when I was not playing in and around unfinished buses, I entered the world of a book. 
What is something you have done that you are proud of?
CP: I would like to think that I have modeled good citizenship and inspired change amongst the children and adults I have worked with over the years, but we would need to ask them to know just how successful I have been.  In general, I am proud of the times when my response to adversity has been to choose the more difficult and more positive path.  
What is your favorite book and why?
CP: My bedtime ritual includes a dose of reading, and I read an average of a book per month, sometimes reading two books simultaneously.  I allow each book to absorb me fully so that while pulled into its world, all other books fade into the background.  I am currently reading Dead Wake: The Last Crossing of the Lusitania in which Erik Larson weaves together historical accounts and evidence surrounding the sinking of Lusitania during World War I into a gripping work of narrative non-fiction.
What's the most memorable piece of advice you've received from a teacher?
CP: When things are not going well, always first examine the possible effects of your own behavior and actions. A graduate school professor gave me this advice with respect to my classroom practice as a teacher, but I have found it to have broad applicability across other areas of my professional and personal life.
Who has been an inspiration in your life and why?
CP: There has not been one particular person who has been an inspiration.  Instead, there have been a series of people from various parts of my life who have modeled characteristics that I am striving to emulate: resilience, flexibility, integrity, compassion, and an excellent sense of humor.