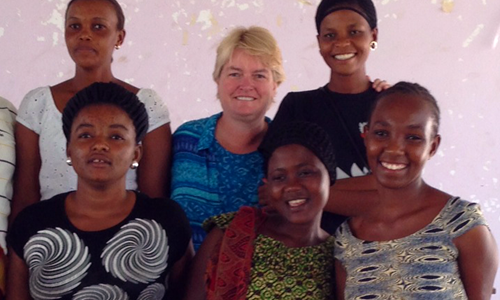 Lynn Foden joined Room to Read as Chief of International Operations in 2012 with 25 years of experience working in developing countries, including a role as Chief of Operations for the Africa Region of the Peace Corps. Six months into her new role, we caught up with Lynn to hear more about her career in international development and about what's to come in the months ahead.
How did you originally get into the field of international development?
When I was in high school I went to a presentation by a Peace Corps volunteer who had constructed a library in Togo, West Africa. Having seen his excitement in the project as well as the transformative effect of the library, I became interested in international development.
Later on, with my engineering background, I was able to help develop water supply and sanitation projects in Africa. After spending two years in a rural community living side by side with my African friends, colleagues and neighbors, I felt as though I could make contributions in this area.
Based on your experience abroad, why do you think gender equality is so important?
From my early experiences seeing girls walk hours to fetch water and then perform incredibly hard physical labor, working towards solutions for girls and women took on an additional significance for me.
What made you decide to join Room to Read?
I am very excited about the mission of the organization and particularly about the team that I met during the interview process. It was clear from those early interactions that this is a very special group of people who are extremely committed to changing the world.
What has been the greatest surprise in your first six months?
It was visiting classrooms in South Africa, Zambia and Tanzania in January. There were two highlights that stood out for me.
First was seeing the engagement of first grade teachers who are part of our Reading & Writing Instruction program. You could really see the joy and pride on their faces, knowing they had both the skills and confidence to help change their students' futures.
The second moment that stood out was sitting with our social mobilizers in Zambia. They are only a few years out of high school themselves, but their passion and commitment to helping other girls was inspiring—particularly with the challenges they are facing in weather, poor roads and difficult transportation.
Learn more about our leadership.