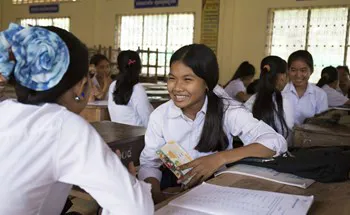 Learn more about our progress
As a 10th grader grader, Pisey Pring is used to preparing for exams, but unlike her usual math test, today's assignment is a little different. Instead of resolving an algebra equation, Pisey is reflecting on how she reacts when a friend confronts her with harsh words, or if she knows how to calm herself before a tense exam.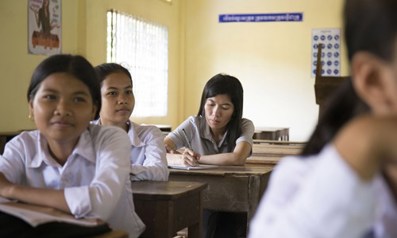 These are just two of the many exercises that make up Room to Read's new Life Skills Assessment. Recently piloted in 2016 throughout Room to Read's Cambodia, Tanzania and India-based Girls' Education Programs, this questionnaire gauges how effectively students cultivate life skills such as, confidence, decision-making, and expressing emotions.
"Girls tend to see themselves very different from boys [at school]. They doubt their right to be there, or don't believe they can become good students," says Cécile Fanton d'Andon, a life skills consultant and partner on the assessment project. "This is where mentoring and life skill approaches are very useful and not too costly to implement."
While this testing is imperative, Room to Read is one of the few organizations implementing something of this kind. Without a standardized program and curriculum, life skills can't be measured. Yet, with Room to Read's systemized approach comes the opportunity to both study and enhance the program's impact.
"Through this tool we can see whether the program's content meets the girls' needs as they advance through it," says Soseihaknead Bunna, the Girls' Education Program Manager for Room to Read Cambodia.
This data gives Room to Read the necessary insight to improve the program, while also giving participants the chance to reflect on their own journeys.
"I think the assessment is like a mirror that reflects who I am," says Pisey. "It also helped me understand my strengths and weaknesses, which include communicating with strangers, like the interviewer. So, [the assessment itself] was a life skills practice for me."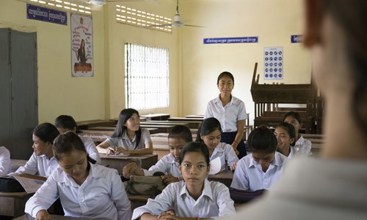 Yet, developing a tool that measures the same soft skills across different languages and cultures comes with its fair share of challenges. For instance, it's easier to find out what grade a girl earned in math class, versus asking if she feels she's a good student. The latter often comes with personal and cultural bias. d'Andon explains that when a student answers this question, she may want to make a good impression and may adapt her answer to fit what she thinks is expected of her – an issue known as the desirability bias. 
"The issue with the desirability bias in this particular project is that it is very country specific. Not being able to show empathy is much more accepted in Cambodia than in Tanzania. Therefore, there will be a stronger bias in that aspect of the tool in Tanzania than in Cambodia," says d'Andon.
Beyond these biases, d'Andon and Room to Read also had to consider each question's meaning within various cultural contexts. The team developed a multi-step translation process to spot inconsistencies. Through this, they realized certain words can tack on new meaning when translated.
d'Andon recalls a scenario where 'I can put myself in someone's shoes' was simplified to 'I can put myself in someone's situation.' While this change proved fine in translation testing, during pre-testing the team found 'situation' had been translated into a word that carried a strong financial connotation in Tanzania, which altered the meaning of the question.
Through this piloting stage, d'Andon and Room to Read's Research, Monitoring and Evaluation team worked hard to neutralize the language and learned helpful insights to ready the assessment for its next stage.
In 2017, Room to Read Cambodia will launch a baseline assessment with incoming seventh graders in Girls' Education Program schools, as well as comparison schools. This next step will track the life skills girls have when entering secondary school, giving Room to Read a more measured understanding of how students have grown over the course of the program as compared to girls who don't have access to life skills coursework.
Want to learn more about Room to Read's Girls' Education Program? Visit www.roomtoread.org/literacy-girls-education.