Parent engagement
In Kalimantan, library room preparation is exhilarating and exciting for the entire community. Librarian Mrs. Hayani shared how students, teachers and other library educators recently helped pack old books and clean to make space for new library improvements. Mr. Rudi, a devoted father of a Grade 2 student, was especially integral in this process, volunteering to paint colorful murals on the library walls. Even when art supplies were not readily available, Mr. Rudi's passion for the library remained. He visited the school on weekends and holidays to contribute his artistic skills and make the library room a special place for children to foster their love of reading.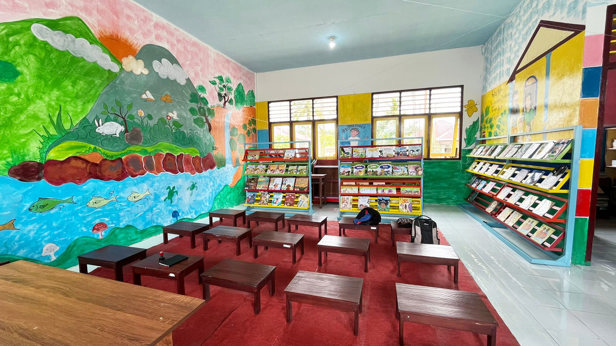 Mrs. Hayani said, "Mr. Rudi is the one who always asks me what time he could come to school. It's truly inspiring to witness such enthusiasm from a parent."  
The active participation and support from Mr. Rudi exemplify the power of libraries in bringing communities together, educators, parents and caregivers working together to create welcoming and engaging reading spaces where children can lose themselves in a good book.