Raised in a poor family in rural village of Uttarakhand, India, Nisha's family didn't have much. Her father worked as a roadside tea vendor, while her mother farmed a small piece of land. As the only daughter of three, Nisha lived in a joint family and despite their financial situation, hoped to become a teacher. While illiterate themselves, her parents encouraged her studies, but her circumstance kept that dream at bay.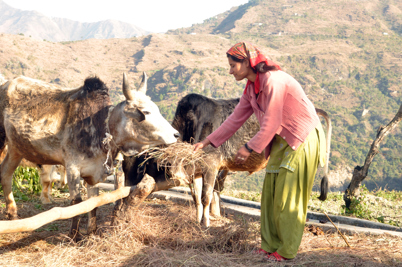 Beyond financial hardship, Nisha's home life was quite tense. Her father had become an alcoholic, and his drinking habits continuously stressed the joint family. Then one day, he had an accident. While climbing the roof to fix a wire, he lost his footing and fell three stories. After being hospitalized for several months, Nisha's father was permanently paralyzed.
His high medical costs and intensive care took a toll on the family. With the loss of his income, and no outside support, Nisha's family spiraled into financial crisis. Desperate, her parents asked their 10th grade son to take over their father's tea business just as he was about to take his board exams. If he failed this critical test, he wouldn't move onto the 11th grade, adding another year of school the family couldn't afford. Unable to pay for her educational expenses, her parents told Nisha she'd have to quit school. Devastated she lied awake, crying night after night until one evening an idea struck.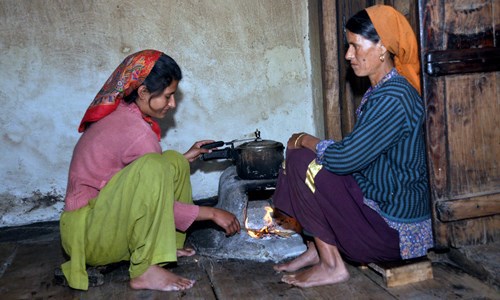 That morning she approached her parents with a proposition – to manage her father's tea shop and let her brother continue with his exams. The catch? She'd only run the tea shop if she could go to school simultaneously. With persuasion, her parents agreed.
Covering both household expenses and their tuition, Nisha and her brothers barely made ends meet. Due to long hours at the tea shop, Nisha also had to miss school at times and struggled to juggle both worlds.
But in perfect timing, Nisha received a scholarship from Room to Read. Joy rushed through her, as she knew with support from the Girls' Education Program she could focus on school and thrive. Nisha not only excelled academically, but also participated in sports and extracurricular activities, such as the esteemed National Cadet Corps, where she earned the "Best Captain" award. With a twist of hard work and good fate, Nisha's view on life drastically changed.
But, in her final year of secondary school another tragedy struck.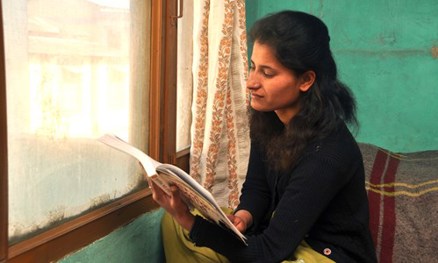 Nisha and her cousin were on their way home from a wedding when their inebriated driver suddenly lost control. Their jeep rammed straight into a hill, tumbling over. Five people died that day, including Nisha's cousin – a dear friend she loved like a sister. All who survived suffered injuries, including Nisha, who sustained a critical head injury and fractured leg. She spent twenty days in the hospital with an iron rod repairing the break. Bed ridden for months, school was out of the question. Despite how close she was to graduation day, the odds of finishing looked grim.
Sunk in a depression, Room to Read's staff and teachers visited the teen, rallying her with encouragement. They consoled her by remaindering her that 'tragic things in life happen, but you can still pursue your dreams.' Enwrapped in a supportive network, she rediscovered her will to recover.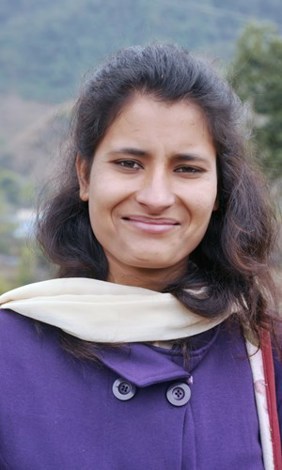 Three months later, doctors were floored to see Nisha not only physically improving, but also returning to school. Though her health was not well, once there she never missed a single life skills training. With the help of her friends, Nisha caught up on the curriculum and even passed her senior secondary examination with soaring scores. Despite everything life threw at her, Nisha graduated 12th grade that summer beaming with pride and gratitude. 
"I would not been the person I am today without the support and assistance from Room to Read. Through this program I was able to pursue my dreams. With material support, I was able to focus on my studies and through life skills training I became more confident and passionate to do something worthwhile in my life."
Since then, Nisha went on to pursue her Bachelors in Humanities while working part-time at a local non-profit. Ever passionate about giving back to her community, Nisha also volunteered with a local NGO, where she ran a children's summer camp and had the opportunity to travel outside her home region for the first time.
Today, Nisha is one step closer to becoming a teacher – a career she knows will enable her to help other children rise above insurmountable odds.
"Knowledge gathered from books alone are not enough. We should also be aware of our surroundings and attain knowledge from our environment. By becoming a teacher I would be able to transfer the education I have attained from different sources from one generation to the next."