Born and raised in Laos's Champasak province, Principal Amphone Onxaivieng has seen many sides of local education. Having studied at the very school he now oversees, the 49-year-old also knows what it's like to grow up yearning for educational resources.
"When I was growing up, education was very different from today. There were no text books, instruction for teachers, teaching materials, or story books. We also had limited school buildings and classrooms. Even though the school was not far, I struggled with these challenges, didn't study well and repeated a grade."
He's since turned this experience into personal motivation to ensure every student at Nonghaikhok Complete Primary School has what they need to succeed.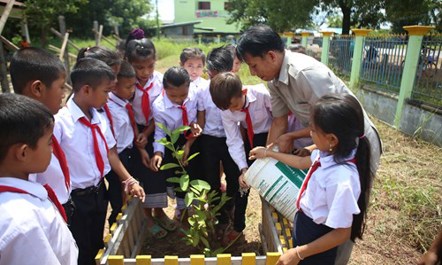 Planting Seeds for the Future
An educator with 29 years of experience, Amphone's duties extend far beyond the average principal. His standard week ranges from overseeing administrative duties to running the school's community garden and garnering parental involvement. Regardless of what task he's involved in, each has an overarching theme – to leave the community in a better place than they found it.
"I'm really passionate about doing something different in my community. I lead teachers and students to do meaningful things like growing organic crops, planting trees, decorating and cleaning at school," says the principal.
Since creating the community garden, this popular activity, gives students the chance to reap what they sow. The produce is later sold at the market and used to fund school activities and materials, showing students the tangible change that comes with community effort.  
Education as a Bridge Between Languages
But this principal knows most student struggles stretch far beyond the garden. As one of the world's least-developed countries, most Lao families live on less than $2 a day. Laos is also incredibly diverse with 220 languages spoken by 7 million people. As a result, 47 percent of the children don't speak Lao at home, yet Lao is the only official language of instruction in schools. This sensitive issue poses an added barrier for almost half of the country's children. Between tight finances and lingual hurdles, quality education often sits on the back-burner.
"The common struggle students face in the community is that many parents are not aware of the value of education and do not support their children to go to school. For example, some of the school girls were often absent, because their families needed help with household chores and take care of younger siblings while their parents work the fields," he says.
Amphone remedies this by hosting parent community workshops through Room to Read. These efforts have proven successful for a range of villagers, including Mrs. Phoukhan Satkoun, a local mother who initially kept her daughter home for household help, but with Amphone's encouragement brought her daughter back to school to study again.