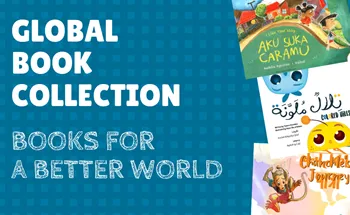 Join our Book Club!
Interested in a book club that inspires new perspectives and breaks down borders?
Searching for globally-minded novels and non-fiction lists recommended by CEOs, storybooks for the little feminists in your life, or  international children's books that teach the traditions of Cambodia or environmental solutions in Nepal?
Room to Read launched the Book Club for a better world.

Trust us, you're not going to want to miss it!
Having distributed more than 20 million copies of children's books in 35 languages, our global team of literary experts not only trains authors and illustrators on best practices for engaging storybooks but also come from incredible careers in publishing and education. In the words of our Literacy Program Director, Christabel Pinto, books have the power to expand the boundaries of our world, and our book club has arrived to do exactly that.
So, what do you get?
Upon joining, you'll e-meet Alisha Berger, our Global Book Publishing expert and receive our latest Books for a Better World Collection, which includes three digital children's books that were originally created for students in Nepal, Indonesia and Jordan. You'll also dig into ten international adults titles deemed must reads by our literary team.
What's next? Every month you'll get literary inspiration right in your inbox!
Book Club members will have access to everything from our digital book collections to chapter teaser videos for entrepreneurs and exclusive interviews with international authors.
We believe books are a building block for a better world. Do you?
Join us! Share this with a friend and together, become a part of the community for book-loving global citizens.