This month we celebrate International Women's Day to recognize the achievements of incredible women around the globe and the ongoing challenges they face. One such inspirational young woman is Srijana from Nepal, who as just a fourth grader had to hike 20 kilometers (12.4 miles) alone across swelling streams and high hills every day to get to and from school.

As a student enrolled in Room to Read's Girls' Education program in Nepal, Srijana knew she was lucky to be supported through her secondary school graduation and she was determined to be a successful student, even if it meant a tremendously challenging 6.2 mile walk to school. Each way. Every day. 
After making the tenuous commute twice a day, not only did Srijana start to enjoy the solitude, she started to enjoy the challenge. Noticing that her stamina was increasing, Srijana started to pick up the pace. Before long she wasn't just walking the distance, she was running it.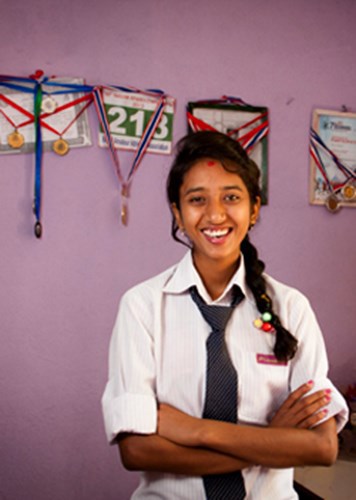 Although Srijana had never been to a single track and field practice or training, by the time she was in the 6th grade she had been timing herself on her runs and noticed steady improvement. So when Srijana heard about a district-wide track and field competition, she bravely signed herself up. To pay the 100 rupee (USD $1) entrance fee, Srijana convinced her father to lend her the money and promised to return it with interest.
Srijana had never competed in an organized race and although she was nervous, she made her way to the starting line alongside her school's reigning champion and the other more experienced athletes. After a tentative start, somewhere around the halfway mark Srijana found her speed and accelerated past her school's champion and the other runners and finished in second place!
"It was one of the most amazing moments in my life," she remembers. "I can still hear my friends and teachers erupting in wild cheers. I remember my parents beaming with pride when I returned home with a trophy in one hand and a check for 3,000 rupees (USD $30) in my other hand. I felt so proud." 
Srijana's untrained success caught some attention. Soon her talent was spotted by Baikuntha Manandhar, a Nepalese trainer and international runner. With his expert training and encouragement, Srijana went on to compete in the 3k race in the National Games, and won it.
But Srijana is not stopping there--she has even bigger dreams. "I hope to represent my country in the Olympics someday," she says. "I want to bring home the gold."
Despite her athletic success, Srijana's dedication to her academics, the reason she started running in the first place, has not wavered. Since acing her SLC exam in 10th grade (a crucial national exam in Nepal that allows you to pass to the next level), Srijana is now in 11th grade studying business management.
Srijana dreams of continuing her studies and competing in international races. "I am training with all my might to achieve my dreams," she says. And when a determined woman like Srijana says this, who could possibly doubt her?

Learn more about our work in Nepal and our Girls' Education program.