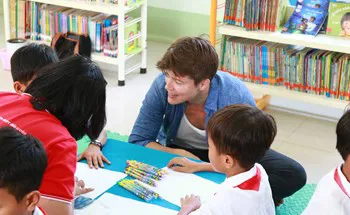 Donate to Jenny's Library Fundraiser!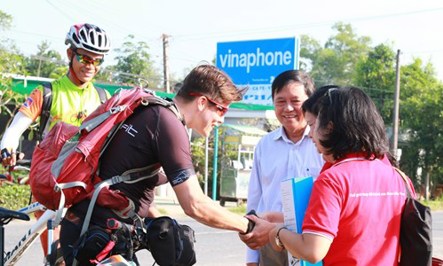 When UC Santa Cruz professor, Jenny Reardon, set out on a 400-mile bike ride across Vietnam, she had two key motivators: her brother and the library her family supported in his name.  
Jenny's brother, Derek, passed away 16 years ago at the age of 30. In one of their last conversations he mentioned wanting to shift his career to elementary school teaching, a field he studied in college. Keeping his love for education alive, Jenny and her family have supported five libraries in low-income communities in India, Cambodia and Vietnam, including the one she biked to over her 8-day excursion.  
"My life, as those of too many, has been marked by loss. The loss of my brother is one that I will struggle with for the rest of my life. The challenge—and also the source of the joy—is to work with it to make life a bit better—both for myself and for others.  Supporting Room to Read—an organization that builds libraries and reading rooms for children who would otherwise not have books to learn to read—feels like a good way to do this, and to honor my brother," Jenny wrote on her fundraising page.  
Inspired, she set out to circumnavigate the Mekong Delta on a library to library adventure from Ho Chi Minh City to the Room to Read library she supported in Tra Vinh to Cà Mau, a region she's currently fundraising for. 
On December 14th, 2018, Jenny met Room to Read's local staff in Tra Vinh, where she and the Literacy Program Field Officer, Linh, rode ten-miles to school. Inside the vibrantly colored library, Jenny joined students for reading activities and games after speaking with the principal, parents and children about the impact the library has had.  
"Sometimes when you're supporting a cause you're not sure whether you'd continue supporting it if you saw the work in person. But this experience far exceeded my expectations," says Jenny. "You can tell the kids just love the library and so do the teachers. As an educator myself, I know people respond to the environment they're in. When you put effort into a library, it says that reading is important. It makes reading a special thing not just a chore. And that was really evident when I visited the library." 
Children weren't the only ones Jenny noticed utilizing the space. She recalled one father who particularly moved her. 
"He told me he always goes to the library, because there's no other place in town to find books. It was powerful to see the inter-generational effect it has - the way parents and kids both had this portal to other worlds through books," says Jenny.  
After connecting with the children and school community, Jenny said goodbye to her new friends and pedaled on. The next stop was Cà Mau, a community in the southernmost region of Vietnam. Here 77 percent of the province's population lives in rural areas and often face difficult living conditions due to the remote location.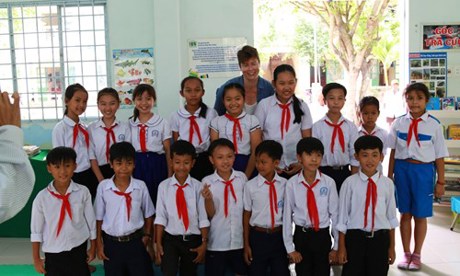 Of the 259 primary schools in Cà Mau, only 124 schools meet national standards for education quality, and all of the schools are in need of quality library interventions to improve children's literacy - an issue Jenny aims to help through her current fundraiser.  
After visiting Cà Mau, she made her way back to Ho Chi Minh, completing the 400-mile excursion inspired to continue fundraising for another library in Vietnam. With eight days of riding and countless new experiences behind her, Jenny fondly looks back at the trip as an experience of a lifetime. 
"There is just so much to gain personally from visiting [a project you support] in person. There's nothing like going to a place and talking to people and seeing it through their eyes. It connects you to the country and people in a way that you otherwise couldn't feel. The learning you have is something you'll never experience," she says. 
Want to help Jenny fundraise for a library in Cà Mau in honor of her brother? Donate to her #ActiveForEducation campaign and help bring local language books and a vibrant library to eager readers in Vietnam.