Located 62 miles from the regional capital of Hyderabad, Mandal Parishad Primary School partnered with Room to Read to establish its first-ever school library in 2008.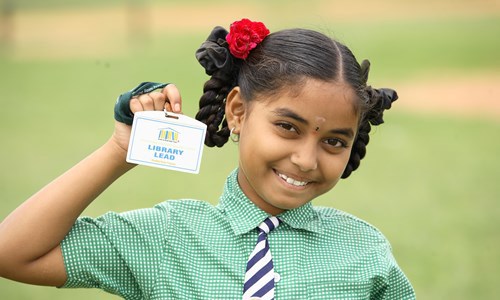 That same year, a Child Management Committee was formed to maintain checkout registers and ensure overall upkeep of the facility. Common across many of our school library projects, these student committees foster ownership and help teach skills like responsibility and accounting.
At Mandal Parishad Primary, the Child Management Committee is particularly active and regularly organizes literacy-themed events at the school. The last time our team stopped by, the schoolyard was buzzing with activity.
Unable to contain her enthusiasm, a 5th grader named Smitha filled us in. "I am participating in the reading competition today," she said. "My parents are coming to see me!" In addition to Smitha's contest, the day also included storytelling exercises and time for the students to read aloud to members of the local community—many of whom are illiterate.
Beyond these special events, says Ms. Karuna See, the school's headmistress, the library has an incredible impact on the day-to-day operations of the school. "Not only has the absenteeism from classes dropped," she reported with a smile, "but the level of community engagement in the school's activities has also increased."
Ms. See went on to share how the formation of the Child Management Committee for the library inspired other students to start similar operations. "I am amazed at the leadership capabilities of these children," she says.
Various clubs within the school have now taken on such causes as health and hygiene, organizing cultural activities and disseminating news to the local community. The health committee has even gone door-to-door with a grassroots campaign to decrease waste—inspired by a book from the shelves of their own school library.
Learn more about our work in India.