July 12, 2013 is the 16th birthday of Malala Yousafzai, a girls' education activist who was brutally shot for speaking out in October 2012, and the first ever Malala Day as designated by the United Nations. In a speech commemorating the event, Malala called upon girls around the world to stand up for their rights—to fight for an education against all odds. It is in that spirit and in honor of Malala Day that we bring you the story of Leakhena, an alumna of our Girls' Education program who is forging her own path to success.
Leakhena's life could have been very different had she not been determined to go to school. Born into a fishing family in rural Cambodia, her parents always struggled to make ends meet. After her father's sudden death in a fishing accident, Leakhena was expected to drop out of school and help her mother with the family business. Determined to stay in school, she refused—arguing frequently with her mother about the importance of education. Locked in a stalemate, she eventually sent to live with an aunt in a distant village. Leakhena spent the next three years selling star fruits and jujubes in order to pay for her school fees. 
Initially, Leakhena was hesitant about joining Room to Read's Girls' Education program, unsure of what it would entail or if she would even be accepted. To her surprise, she was chosen to participate in 2005. In addition to receiving material support to help pay her school fees, Leakhena also learned to think positively and manage her time through her participation in the program—characteristics that have stayed with her ever since.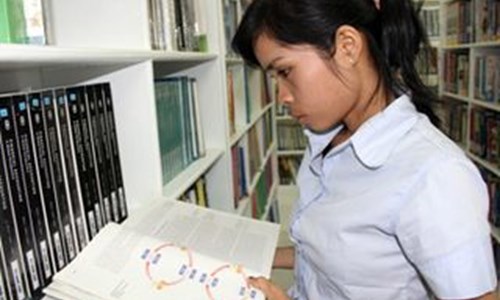 After graduating from secondary school in 2011, Leakhena began to pursue tertiary education, armed with the skills she had learned from the Girls' Education program and the support of her fellow alumnae. Currently an accounting student at the University of South East Asia, Leakhena supports herself by working at a popular restaurant in Siem Reap. Her 8-hour shifts can make it difficult to find time to study, but she is determined.
Leakhena's job has provided her with more than just an income. She has found a role model as well. The owner of the restaurant where she works, like Leakhena, comes from a poor family. Through education and hard work, the woman is now a successful business owner. "I am inspired by her because she proves that success is not always rooted in family wealth," says Leakhena. "It is a matter of effort and perseverance."
With a clear vision for her future and a solid foundation in education, Leakhena is destined for success. "I want to marry someone well-educated and share a joint venture with my husband—a small shop where I can be the cashier, accountant and manager all at the same time!"
With her successful transition to university, Leakhena has earned a special distinction—joining the two-thirds of Girls' Education program alumnae that have successfully pursued tertiary education after graduation.
Check out our latest Girls' Education Yearbook to meet nine incredible young women—like Malala and Leakhena—who are bravely claiming their right to a quality education.