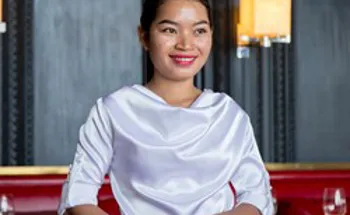 We recently sat down with Choeun Nut, a Girls' Education Program alumna to hear how the life skills she learned in Room to Read's multi-year program have helped her excel in her career in the hospitality industry. After graduating secondary school, Choeun Nut went on to study hotel and tourism management at Western University and now works in a restaurant at Rosewood Phnom Penh in Cambodia.
"We are proud to partner with Room to Read through our well-attended fundraising events and room packages incorporating firsthand Room to Read experiences for guests to see the wonderful work being carried out.  Having John Wood as a Rosewood Curator allows us to bring this fantastic cause to life for our guests and colleagues at the property. Choeun Nut joined our hotel in November 2018 and has become an integral member of the Cuts restaurant team - just one wonderful example of how Room to Read is supporting young girls to achieve their potential," says Michael Parker, Managing Director.
Learn more about Choeun Nut here:
What was your early childhood like?
I grew up in Kampong Cham province, a small village where my parents were farming rice. My family was the poorest one in the village. At that time, I didn't know much about the fine-dining industry. I knew I wanted to study, but the neighbors were always saying that school was a waste of time and I would be more useful to my family by working with them. On top of that, I also started school very late at 10 years old.
What was your life like before you joined Room to Read's Girls' Education Program?
Before joining the program, I was a shy and naive girl living in a poor farmer family. When I was in primary school, my house was destroyed by a storm, so my family lost nearly everything - even basic needs like food and shelter. My parents had to rebuild our home out of foraged wood. After that, they didn't earn enough income to support my whole family so we had to trade our handmade woven baskets with neighbors for food. With all those difficulties, my parents could not afford to send me to school and my mother, who did not value education, demanded I drop out and help the family make a living.
For a while, I was working and studying at the same time. I was in the field in the early morning, then going to school and back to the field again. It was very tiring. Many of my school mates married early with local boys. I was asked to do the same several times but refused as I wanted to pursue and understand the business world better. I felt there was a future outside of my village.
On top of this, I also traveled alone to school, which was 10 kilometers away. I felt hopeless when I was in grade 7, and I thought I was going to quit school, but fortunately Room to Read came to support my school and I was very lucky and delighted to continue my education.

How did your social mobilizer or life skills classes help you rise above these challenges?
Thanks to Room to Read I had study materials and life skills lessons that helped me finish high school. I remember my social mobilizer always came to support, encourage, and listen to my problems and shared her story to keep me motivated during my mentoring sessions. Sometimes, she also visited my home and invited my parents to the workshops.
During school, I read a bit about agronomy and agriculture and suggested that my parents diversify their crops and activity. That could be to grow two different cereals on the fields to harvest twice a year, or keep and sell goods. My parents were not receptive, so I had to keep quiet and study more. Over time, my parents, especially my mother, started to open up and understand the value of education and let me pursue my studies further. More than that, the life skills classes have broadened my knowledge and opened me up to the bigger world. I've built my self-esteem and become more confident in talking with my parents. I'm able to negotiate and explain how important education is for a girl like me despite getting criticism from our neighbors.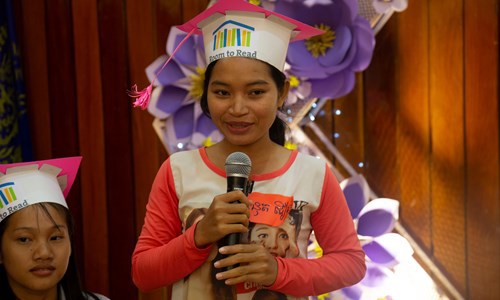 How have your life skills helped you in everyday life while working at Rosewood Phnom Penh?
Room to Read's life skills have helped me to set clear goals and identify my strengths and weaknesses, which are very crucial for me to learn and develop myself in my career and university life. Since I've started working at Cuts Restaurant, which is a high standard restaurant with many foreign customers, I understand that I need to be well-prepared and improve my English. I've practiced and now take English classes. When it comes to communication and listening skills, I've noticed that since the Girl's Education Program I've become more confident in communicating with customers and building good relationships with my colleagues. I've also learned about time and financial management, which are both useful as I'm studying and working simultaneously.
What do you enjoy most about your job?
I've worked in several places before I joined Rosewood Phnom Penh. I can see that here people work from their heart. More than that, they are open to share and learn from each other. Most importantly, I really enjoy working here as a team because my colleagues are friendly, humble and very supportive. I also like how people respect and trust one another and take responsibility for their mistakes and are willing to improve.
What would you like to recommend to Room to Read or Rosewood Phnom Penh?
First, I would like to thank Room to Read and Rosewood Phnom Penh for giving me a chance to grow at different times of my life. For Room To Read, I hope they continue their work and let more Girls' Education Program alumni share their experiences and encourage more Cambodian girls to join their program. It benefits everyone! I suggest Rosewood Phnom Penh to continue the partnership with Room to Read by supporting educational materials and continue organizing events that raise awareness about the organization.
Want to learn more about Room to Read's Girls' Education? Watch the video below.