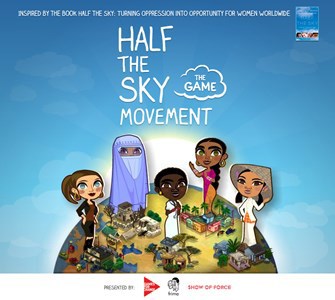 Every month, users around the globe spend roughly 700 billion minutes on Facebook (according to MacWorld). It's hard to imagine just how vast the positive impact would be if we spent some fraction of that time dedicated to conquering the world's biggest social issues, but luckily we don't have to wait to find out. With its launch today on Facebook, Half the Sky Movement: The Game is designed to do just that!
Based on the real-world challenges faced by women and girls around the globe, as documented in the acclaimed book (and subsequent PBS documentary) Half the Sky: Turning Oppression into Opportunity for Women Worldwide, the game aims to raise awareness and of these issues and invest in real-world solutions.
Half the Sky: The Game allows players to take actions that mirror the solutions employed by seven nonprofit partners (The Fistula Foundation, GEMS, Heifer International, ONE, Room to Read, United Nations Foundation, and World Vision), tying those actions to real-world impact through partnerships with the Pearson Foundation and Johnson & Johnson.
"We want to reach a broader audience for these issues we care deeply about," said Nicholas Kristof and Sheryl WuDunn, co-authors of the best-selling book that inspired a movement. In seeking to bring their message to computer screens around the globe, Kristof and WuDunn found a kindred spirit in Games for Change, a non-profit that catalyzes social impact through digital games. "Around 300 million people play games on Facebook across the globe on a monthly basis," said Games for Change Co-Presidents Asi Burak and Michelle Byrd. "If we're able to inspire this group of players to spend just 30 minutes of their time with this game the ripple effect of players' actions will result in hundreds of thousands of dollars towards this critical cause."
In the game, players embark upon a journey through India, Kenya, Vietnam Afghanistan and the United States, taking actions along the way that unlock funds from the game's sponsors. For example, players can collect books for young girls in the virtual world which activates a real-life donation to Room to Read. Players who are inspired by their virtual journey can also choose to make personal donations to partners at any point throughout the game.
Learn more about Half the Sky: The Game.