Arcbord Mweetwa works for Room to Read Zambia on our Literacy Program with our school libraries. He recently shared his experience with us about the excitement of not just the children--but the parents--when a new school library opened at the Mutumbi Primary School.
***
Earlier this year, Mutumbi Primary School in Zambia celebrated the opening of its very own Room to Read library. Situated in a farming village 15 kilometers (9.3 miles) north of Mazabuka in Zambia's Southern Province, the school enrolls 375 children. On the library's opening day, parents of the village were invited to come see the library and learn about the work of Room to Read. I jumped at the chance to visit the school and speak with parents about the importance of reading and the role they play in developing their children's reading habits.

When I arrived, I found a number of parents already seated outside the school anxiously waiting for the presentation to begin. The head teacher, Mr. Malasha, introduced me as one of the most important guests of the day and made me the first speaker. Although I had a speech ready, I wasn't prepared for such an honor!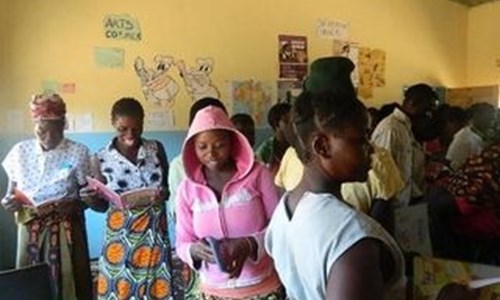 After I introduced myself and the work of Room to Read, I asked all of the parents to stand up and follow me to the library. For most of them, this was the first time they had ever entered a library. As they looked at the colorful shelves filled with books, I could see smiles on their faces and their eyes light up in amazement as they flipped through the pages of some of the books.

We gathered back outside, and I asked them what they had seen in the library. "Chairs and tables! Shelves! Books and games!" they replied. I then told them that everything they had seen had been provided by Room to Read, but there was not enough furniture for all of the children in the school. "Do you think you can help Room to Read by providing the library with mats and stools for your children to sit on?" I asked. Now that the parents had seen how great the library was for themselves, they quickly shouted in reply, "We shall do so!"

My heart was glad to see the parents enthusiastic about contributing to the library for their children. As I came to my last point, I was confident I would drive it home. "Parents, you are your child's first teacher! Imagine if you added the habit of reading to the list of good habits you already teach your children, table manners, respect for elders, and good hygiene. What would happen?" I asked them.

"Encourage your kids to borrow books from the library, and find time to read with them at home. If you instill the habit of reading in your children, you and your children will surely change the face of this world."
Learn more about our work in Zambia.