Borin Srey is Room to Read's Communications Officer for Cambodia. In this guest blog he shares the traditions and office rituals surrounding the Khmer New Year.
*****
Today marks the first day of the Khmer New Year, a three-day celebration based on Buddhist legend, with each day having its own particular significance. In honor of the holiday and on behalf of the entire Room to Read Cambodia team, I will share a little bit about the holiday and how our team marks its occurrence every year.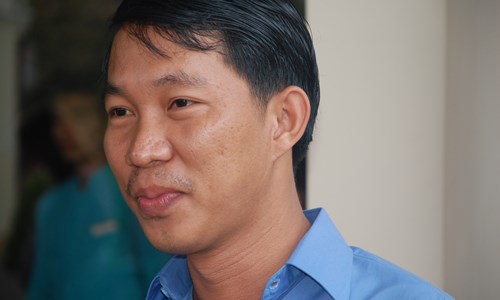 The first day of this ritual ceremony is called Maha Sangkran. For this day, most Cambodians clean their houses and decorate them with lights, while preparing of offerings, such as flowers, garlands, fruits, candles, and incense to welcome the new goddess. As radio and television announce the arrival of the New Year, monastery drums sound, and people burn candles and incense to celebrate happiness, luck and prosperity. In the afternoon, many go to the local monastery to build sand or rice hills that symbolize Buddha's stupa (where his relics were buried).
The second day is Virak Wanabat. For this celebration, people dress up in traditional costumes, prepare food to offer to monks at the monastery and offer their charity—such as money, clothes, or foods—to less fortunate individuals. They also burn candles and incense to ask for happiness and prosperity.
The last day of the New Year celebration is Leang Saka. On this day, children shower their grandparents at home to show their gratitude and respect. At the monasteries, people do the same for Buddha statues. Young people love to splash in the perfumed water and play games, like scarf-throwing, tug of war or traditional dancing.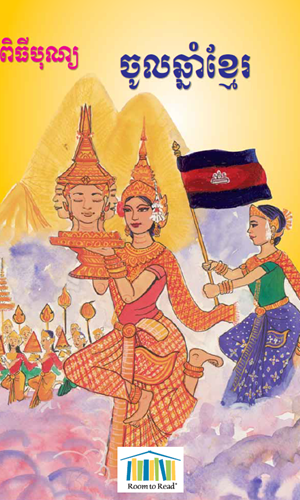 As with all national holidays in Cambodia, rural villagers finish their harvest early and relax a bit. Those who have migrated to urban areas often visit relatives these days as well. The ambiance in both the countryside and cities is lively, with illuminated decorations and music echoing in the streets.
Every year, just before the arrival of Khmer New Year, the Room to Read Cambodia team organizes a staff gathering, followed by recreational activities to celebrate the New Year and build team spirit. Together, we reflect on the year's achievements and look forward towards the future.
"Last year, we accomplished many great things. This year, we'll continue to focus on building a positive work environment," said Kall Kann, our country director, during this year's reflection. Then, program staff voiced their plans for the future, building momentum and excitement among all of us.
"We are looking forward to collaborating with the Reading & Writing Instruction team on producing decodable books to help teachers nurture young readers," shared Rattana, manager of Book Publishing. "We will be introducing Life Skills Assessment to track the progress of our Girls' Education program participants," added program manager Soseihaknead. Sok Ieng, manager of School Libraries was next to chime in. "We are focusing on capacity building for our field staff to improve the training they provide to schools," he said proudly.
With so much to look forward to, it's certain to be a very good New Year.
Learn more about our work in Cambodia.