The following is a guest blog by Kushal Mazumdar, acting country director for Room to Read in India.
*****
The New Year of 2013 started with a bang for Room to Read India. This week, we were presented with the Times of India Social Impact Award—the only NGO recognized in the category of education. I can't think of a better way to kick off our tenth year of operation in India than an honour such as this.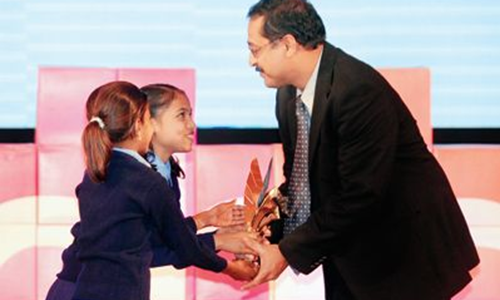 The Times of India is the most widely-circulated (and highly respected) English-language daily newspaper in India, and its Social Impact Award is highly sought-after. The selection process includes a stringent preliminary review of all nominees, followed by site visits, meetings with staff and beneficiaries and a final deliberation by a jury of experts.
For our staff, this award represents a quality certificate of our work and impact. It is a testimony that we are headed in the right direction and should continue to do our part in helping our nation and society develop further. Room to Read India is part of a global movement—a network of people dedicated to building a better world through education, and I feel proud that I have the opportunity to work with such extraordinary people. The hard work and conviction my colleagues demonstrate every day has resulted in this award. Congratulations are due to all!
In addition to the validation it lends our work, the Times of India award has also given our organization a great platform. At Monday's ceremony, which was televised nationally, the President of India, political leaders, ambassadors from all over the world and business leaders from many multinational companies were in attendance. Our work also graced the pages of the publication for weeks leading up to the event.
We are ready to take our work to the next level and impact the children we have yet to reach. In our first ten years, Room to Read India has benefited more than 2.8 million children, and this new recognition will help us do even more. Two of those beautiful children, Jyoti (9) and Ujala (10) presented the Times of India award on Monday, and their presence made the ceremony all the more meaningful. Both girls study in 5th grade at government-run primary schools (one in Delhi, one in Rajasthan) and learned to love reading in their school libraries, established by Room to Read. Coincidentally, both girls' names mean "light," and as they confidently came on stage to do their part, no term could be more fitting.
On behalf of the entire team of Room to Read India, I would like to thank all of our supporters for joining us in the belief that World Change Starts with Educated Children. We look forward to many more years of success.
Learn more about our work in India.