Dinesh Shrestha is a co-founder of Room to Read and currently serves as our director of field operations. In this guest blog, he shares his experience accepting an a recent award in Cambodia.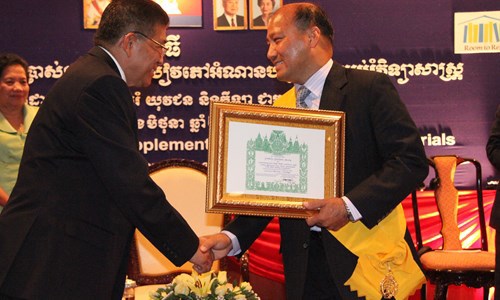 When I heard from Kall, our Country Director for Cambodia, that CEO Erin Ganju and I have been selected to receive a royal award from His Majesty the King of Cambodia, I was speechless. The first thought that crossed my mind was 'Why me?'
Kall told me that the government wanted to recognize the founders of a first-class organization dedicated to helping Cambodian children as a way to honor the organization's work as a whole.
The Royal Awards—announced by His Majesty the King Norodom Sihamoni—were presented on June 13, 20013 at a ceremony presided over by Mr. Im Sethy, Minister of Education, Youth and Sports. The medal is one of the highest royal first class honors, the Maha Sirivudha-Moha Séreivath (Grand Cross), and I was fortunate enough to accept in person on behalf of Room to Read. Room to Read founder John Wood also received the award in 2011.
Acceptance of the award was timed to coincide with the official launch of Room to Read and Scholastic's first set of science books for young readers—translated and interpreted to be culturally relevant in Cambodia. The high profile event was attended by all 24 provincial education officials in the country, the culmination of a two-year project to contextualize and translate the books for primary students.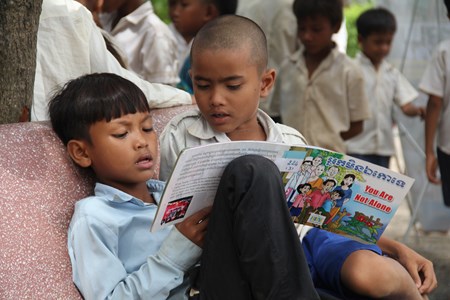 The event venue was decorated with a photo exhibition of Room to Read Cambodia's work, with a stall for each program. As the saying goes, a picture speaks a thousand words. After the award ceremony, the ministers and guests took a guided tour of the exhibition with our program leads.
When we started Room to Read in Nepal thirteen years ago, we didn't have concrete plans to expand our reach—only an early vision for what could be. When we expanded our programs in Vietnam, the second country of operation, we started to dream big—envisioning expansion to multiple countries and tailored programs for each context to impact children in the best way possible. Now, years later, our work has been recognized around the globe for quality and scale by governments, UNESCO and the communities with whom we work.
As a founder, I see this recognition and I feel proud. I am very honored to receive this award from the His Majesty the King in a foreign land that has been touched by Room to Read. In receiving it, my energy is renewed, and I feel as committed as ever to continue to serve even more children in the countries where we operate. Our work is far from done.
Learn more about our work in Cambodia.