Since 2009, Atlassian has been a key corporate supporter of Room to Read's work across Cambodia. Atlassian's investments to Room to Read, funded by their innovative "causism" business model, total over $2.8 million to date—over 100x Atlassian's original goal!  In November 2013, 11 Atlassian employees from San Francisco, USA and Sydney, Australia visited Cambodia to witness first-hand the impact the Atlassian Foundation and Room to Read has had on communities. Below is a guest blog post written by Jeremy Largman, Knowledge Management Program Manager at Atlassian who was part of this special visit.
***
What I didn't know
I knew Cambodia was struggling. I'd visited 14 years ago and I knew the country was impoverished and torn by war. But even being here before couldn't prepare me for the experience we had visiting the Room to Read libraries and education programs that the Atlassian Foundation has helped sponsor.
Before meeting the girls in Room to Read's Girls Education program, and seeing the schools in the villages, I couldn't see the undeniable level of commitment--the sacrifice--that the students and their families make to get an education. The set of challenges the students need to overcome in order to access education is both overwhelming and inspirational. But the commitment is there--from the girls in the program, their parents and grandparents, the community, alumnae and teachers, and from the Room to Read staff on the ground.
What I couldn't see before coming was that the ingredients for change are already here: the profound spirit and willingness to fight for change. It might take a generation, but change is coming, and Room to Read's programs are sorely needed to help make it happen.
The challenges are profound
The roadblocks ahead of us are in no short supply: a father who needed his daughter to work in the rice fields rather than attend school; a girl who couldn't attend school because her bicycle had a flat tire and she needed to save up to get it fixed; a school in a rice field that was subject to flooding such that it delayed the start of school for a few weeks.
Among these challenges though, we saw some tremendously positive and encouraging signs.
The community is willing to sponsor education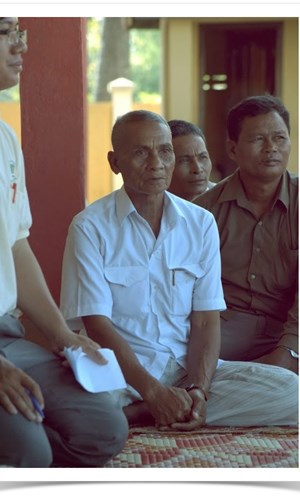 We met an elder Cambodian from the school we visited in Siem Reap province. We were introduced to him in a community meet-and-greet format facilitated by our Room to Read visit coordinators. He was honored by the community for his contribution to the school. He described the sacrifice he'd made for Cambodia's future: the donation of his rice field. Although he had been offered USD$20,000 for his rice field--an extraordinary wealth by a Cambodian villager's standard--he chose to donate his land to build a school in support of the education of his grandchildren. He considered this to be a better future for them than an inheritance.
He had acquired his rice fields early in his life, and had been working tirelessly, like so many in his village, to create a decent life for his 10 children and 20 grandchildren. He told us that he remembered as a child having to walk far to get to school, but was committed to it and cherished the education he received. He remembered being tired and had a hard time learning after walking so far, and wanted a school in his village. When there was no land available to build such a school, he decided on a substantial sacrifice and donated his own land toward this end.
Most importantly, the children want education
Atlassian Foundation in Cambodia: Transforming Poverty through Education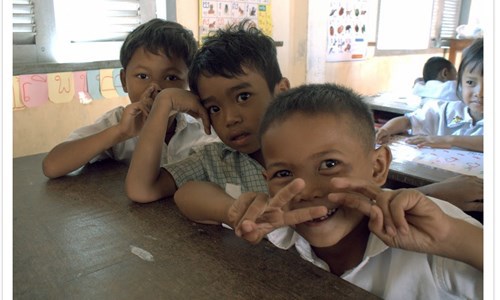 The desire for education is so strong. It's not just the parents, and the community, and Room to Read that want education; you can see it in the kids as well. They reminded us of any kids we know from Australia or the USA: energetic and ready to learn.
During a visit to a Room to Read school library in the village of Phoum Svay, we met students who are intensely committed to their education, driven by a deep passion for helping their families and community. This is what keeps us going at Atlassian and drives us to continue to support education around the world with Room to Read. We are proud to be partners in the movement to bring educational opportunity to bright, young learners!
This post originally appeared on The Atlassian Foundation blog on December 4, 2013.