When Room to Read's Bangladesh publishing team ran a gap analysis last year, they discovered their libraries didn't have enough realistic fiction picture books — or storybooks with realistic narratives and illustrations. This informed their annual call for children's book manuscripts last December. From 110 submissions, the team chose five writers who had never published with Room to Read before to participate in the Writers' Workshop, which is held annually across Room to Read's countries of operation.
"The workshop is a chance for us to develop new writers in collaboration with our established authors," noted Saidus Saklaen, a Quality Reading Materials manager for Room to Read Bangladesh who has been leading the workshop for four years. The goal of the workshop is to develop about 12 manuscripts for publication and distribution across Room to Read Bangladesh's libraries.
Writers' Workshop facilitator Saidus leads a discussion on story plotting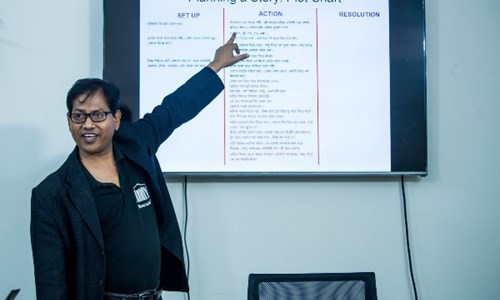 In all, fifteen writers came together in the small town of Savar near the city of Dhaka for the workshop, though they soon learned it wasn't just about writing — they also sang, danced, and laughed together. "We wanted to create a comfortable, creative environment for the writers so they could feel inspired," said Saidus.
In the first session he took them through the history of children's books, using the popular American picture book Where the Wild Things Are to jumpstart a discussion about the characteristics of an engaging story. The writers devoted another session to understanding their target reader — second graders aged five to seven years old.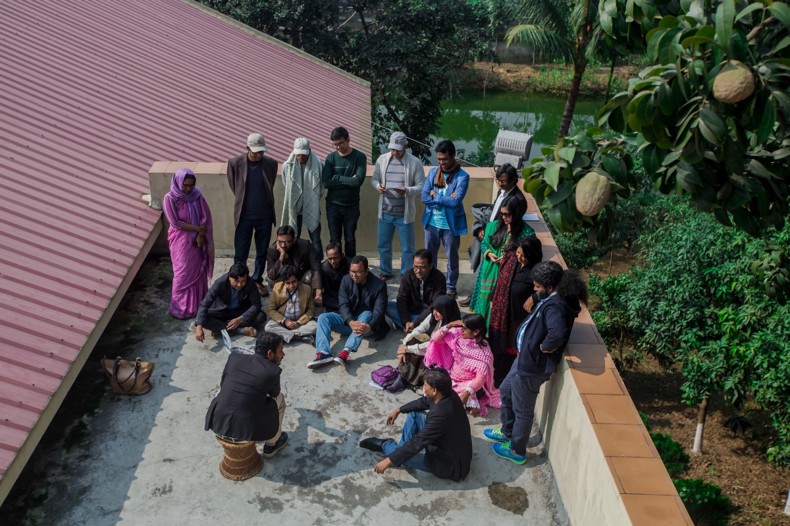 Participants in Room to Read Bangladesh's Writers' Workshop take their discussion of 'Where the Wild Things Are' outdoors