Key to Room to Read's Literacy Program is the construction of bright, child-friendly learning environments that ensure, for instance, adequate light and ventilation, good quality blackboards, and a library — improvements studies have shown increase learning outcomes.
Our challenge grant model acts as a sort of charter, creating a partnership between Room to Read and the community to bring about these improvements. The grant requires communities and local governments to contribute to building's construction and ensure its upkeep. We've found this inspires communities to become more invested — not just in the success of the building but in education in general.
Most villagers in Pinda, many who struggle as subsistence farmers, are illiterate. "At times we do not even know how to read brand names or price tags when buying seeds or fertilizers," says villager Manbahadur Chepang. "We often get deceived."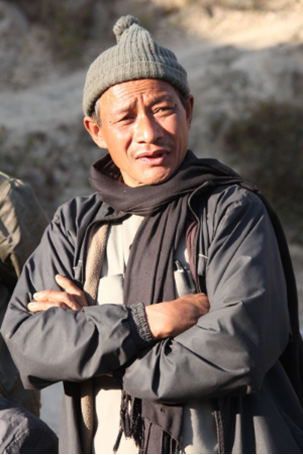 For Chepang the importance of literacy hit him the day he was asked to write about a trip he took to learn advanced farming techniques. His mind went blank at the prospect. "Letters to me look like ants," he says. "I really don't get them."
That's when the villagers knew they wanted their future generations to be able to read and write — that this was necessary for their community to survive. But how was that possible given that their school was falling apart? "Without a good school, [literacy] is not possible," says Chepang.
The villagers agreed: they had to build a new school. Having heard about Room to Read, a group of them made their way to Thapa's office, convinced that this was the answer.
As a key step in receiving a challenge grant, the community formed a School Construction Committee to oversee their contribution, with villagers donating wood, cement and labor as well as transportation and clean water.
"I sold my goat to contribute to the construction," says villager Krishna Bahadur Tamang, goats being a valuable source of food and income for the villagers.
Then the rains came down, pounding into the vulnerable hillside. Suddenly the terrain collapsed and a landslide swept away part of the road the villagers were using to transport materials to the construction site — it was now impossible to reach. Still the community refused to stop.
"I stayed overnight to oversee the construction," said Durga Bahadur Tamang, 84. "As the eldest of all, people listen to me." Meanwhile villagers banded together to rebuild the road by shovel, by spade, by anything they could put their hands on. They had exactly one truck to haul construction materials to the site. With the road half gone, it took seven days for the truck to make it there.