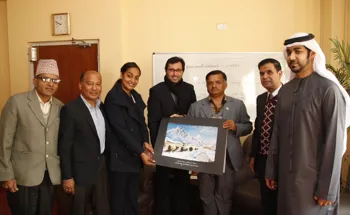 Support Holistic Literacy Programs
Since Nepal's tragic 7.9 earthquake in April 2015, the country has worked tirelessly to rebuild what was lost. Between the 85,700 damaged homes, 32,000 destroyed classrooms and 15,000 marred learning facilities, nearly 1 million students have been left without access to education. To help remedy this, Room to Read has joined efforts with long-term partner, Dubai Cares. For more than seven years, our organizations have collectively committed to creating quality learning environments for children in developing countries. Together, we have recently launched a three-year partnership to rebuild and renovate classrooms and bring comprehensive literacy programming to government schools in Nepal.
"Through this program in Nepal, Dubai Cares seeks to help children affected by natural disasters to regain the sense of normalcy by enabling them to go back to school. We will continue to do our best to make sure children get the help they need to stay safe and strong, as well as the support and resources they need to rebuild their lives in the long term," says Tariq Al Gurg, Chief Executive Officer of Dubai Cares.
The $2.5 million partnership includes two phases. The first focuses on renovating 115 classrooms across ten schools in the Nuwakot district, creating safe spaces for children that align with the Nepali government's post-earthquake building standards. As part of the program's second phase, Room to Read will implement our holistic Literacy Program for children between the ages of 4 and 10 in a minimum of 100 schools, benefiting approximately 25,000 students. Teachers will be trained in literacy instruction, library management and reading activities that promote strong reading habits in and outside the classroom. We will also establish libraries filled with local language children's books and host community engagement activities, mobilizing families to support children's education and at-home reading.
This program will build on our ongoing collaboration with Nepal's local and national governments, to review and identify gaps in the country's national literacy curriculum. This effort aims to provide both short and long-term support to disaster-inflicted areas and other underserved regions.
"With this significant investment, Dubai Cares is allowing us to deliver high quality programs to thousands of students in Nepal and helping us leverage private investments for large-scale national curriculum reform," says Geetha Murali, Chief Development Officer of Room to Read. "We're thankful for this long-term partnership and look forward to working together to rebuild and enable effective, educational environments for communities across Nepal."
This post-earthquake partnership with Dubai Cares, launched in 2016, will ensure children have access to safe schools, teachers trained in literacy instruction, and quality reading materials — which, together, form the foundation for all future learning.
For more information on Dubai Cares, visit dubaicares.ae.