If we look back on the mainstream media reports covering the earthquake in Nepal in the days directly following the event, it would be natural to conclude the devastation primarily affected the people on Mount Everest. People like climber Ashleigh Stumler from North Carolina who, in a touching moment any of us with family and an iPhone can identify with, FaceTimed with her extremely relieved parents, as several news outlets reported. Or base camp medic Eve Girawong from New Jersey, documentary photographer Thomas Ely Taplin and Google executive Daniel Fredinburg whose tragic fates were featured on many of the major networks.
All the while, a more pervasive story of loss loomed — a story still largely untold.
Now with at least 7,000 deaths, the Nepal government estimates that the earthquake affected the lives of about six million people. Of those, fewer than 100 were at Everest base camp. That means the mainstream media spent, I'm going to estimate, about 50% of their airtime and column space covering 0.000017% of those affected by the earthquake.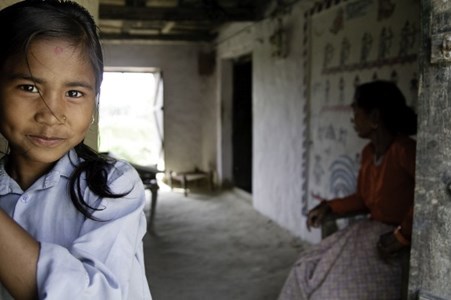 I'm basing this percentage on the frequency of stories I found on the internet featuring the victims and survivors on Mount Everest, which lies about four hours from the epicenter of the earthquake, versus stories featuring another group of people whose lives are forever changed from this disaster in their homeland: the Nepali children.
While Westerners may think of Mount Everest, Sir Edmund Hilary or Into Thin Air when they think of Nepal, the reality is that the vast majority of Nepalese — over 95% of the country's population — lives at the lower altitudes.
People like 13-year-old Manushi, who told CNN she was joining demonstrations in Kathmandu to protest how little was being done to help her family. We don't know anything more about Manushi, such as what she's doing while she waits for life to return to normal. Or if she feels lucky that the earthquake happened at a time when she and her classmates were not at school.
I've gone on many treks through the Himalayas so I mean no disrespect to the Everest climbers. My heart goes out to the families of Girawong, Traplin and Fredinburg, and anyone else who is still missing or worse, killed by this disaster while traveling in Nepal. But as an admirer and supporter of good, objective journalism, I believe the media is doing the world a great disservice by focusing on foreign adventurers on Mount Everest rather than on the rural Nepalese villagers without resources, a people who are among the poorest on the planet. The United Nations's latest estimates are that the earthquake has displaced 2.8 million Nepalese by destroying 70,000 homes and damaging another 530,000 across 39 districts. This rebuilding process will take a long time and the Nepali people need our help.
When the media focuses on the foreign trekkers on Mount Everest, it sends the wrong message to the developed world because it does not create a real sense of urgency nor does it encourage donations for those most in need during this critical emergency response period.
As my Room to Read co-founder Dinesh Shrestha told me back in 1999 in Nepal, where we first started the organization — which now supports literacy and girls' education in 10 countries across Africa and Asia: "If you want to help the people of Nepal you have to travel far and it will be a long journey. You cannot help our country unless you are willing to travel to remote rural areas."
What was true then is even more true today.
Therefore, I'm challenging the news media to shift their focus in the weeks to come below Everest to the real, but harder story: to the epicenter of the quake — to those remote, hard-to-reach communities that are even more challenging to reach now that landslides are blocking the roads; to the places where people are now desperate for shelter, healthcare and food and water — and then to the task of rebuilding, including getting children back to school and learning.
If we miss a season of trekking on Everest that would affect a few hundred people. But if we don't convince the world to focus on the places where the majority of the Nepalese population live, hundreds of thousands if not millions of people will be left in harm's way.
John Wood is the founder of Room to Read, a global organization that believes World Change Starts with Educated Children. He is the author of Leaving Microsoft to Change the World and Creating Room to Read.