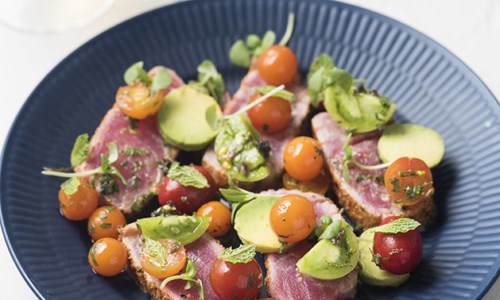 TUNA STEAK TATAKI AND HEIRLOOM TOMATO CRUDO
Despite the relatively long list of ingredients, this is about as easy a tuna first course as you can find. Plus, it showcases really good tuna—served nearly raw yet seared just enough to give the fish a pretty and tasty finish. The Asian hints are just right with the tuna and tomatoes. (For more on choosing the tuna, see the Notes at the end of the recipe.)
SERVES 4
2 cloves garlic, minced
4 teaspoons sesame seeds
2 teaspoons onion powder
1 teaspoon togarashi (optional)
Kosher salt
4 saku yellowtail tuna blocks, thawed, if necessary
1 pint cherry or grape tomatoes (choose the ripest and most appealing tomatoes)
2 tablespoons yuzu juice
2 teaspoons dark sesame oil
1 to 2 teaspoons white soy sauce (also called shoyu)
Freshly ground black pepper
1 to 2 tablespoons torn or coarsely chopped fresh green shiso, basil, or cilantro, for garnish
In a small bowl, mix together the garlic, sesame seeds, onion powder, togarashi, if using, and about 1 teaspoon salt. Sprinkle this seasoning mix on both sides of the tuna, gently pressing the mix into the tuna.


Heat a large nonstick skillet over high heat. Sear the tuna blocks just until they brown slightly, 1 1/2 to 2 minutes on each side. Remove from the pan and slice the seared tuna into slices. These can be thick-ish, 1/4 to 1/2 inch thick.


Slice the tomatoes into pieces of similar size and put in a mixing bowl. Season aggressively with salt and then sprinkle with the yuzu, oil, and soy sauce. Season with pepper and toss gently. Add the shiso and toss again.


Arrange the tuna slices on plates and spoon the tomatoes next to them. Serve immediately.
Notes: Any sushi-grade tuna can be used here; ask the fishmonger to cut it into bricks that weigh about 12 ounces each. You can also buy saku blocks, which are part of a sushi chef's pantry: flash-frozen sushi-grade yellowtail tuna. The blocks weigh between 10 and 14 ounces and are cut so that all are the same size, approximately 6 inches long by 3 inches wide by 1 inch thick.
Tuna Steak Tataki and Heirloom Tomato Crudo excerpted from SO GOOD© 2017 by Richard Blais. Reproduced by permission of Houghton Mifflin Harcourt. All rights reserved.