This post is in honor of International Women's Day, March 8, 2013.
*****
This time last year, Suma Tharu, one of our Girls' Education program participants from Nepal, took the stage at Lincoln Center for Newsweek & The Daily Beast's Women in the World Summit. With almost no nerves and very little fanfare, she stood before a packed house in the middle of Manhattan and shared a song she had written thousands of miles away in rural Nepal about a childhood spent in servitude and her desire to pursue an education. No more than a minute long, her song—and the story behind it—captured the imagination of the international audience before her, her confidence and strength shining throughout.
This year, Suma will share her story with the world again, as part of the new film Girl Rising. The film, which premiered last night in New York and will do so tonight in Los Angeles, is a testament to the power of the human spirit to overcome adversity and a powerful reminder that educating girls can truly change the world. In Girl Rising, Suma plays herself in the story of her own life—brought to screen by Director Richard E. Robbins and Nepalese author Manjushree Thapa.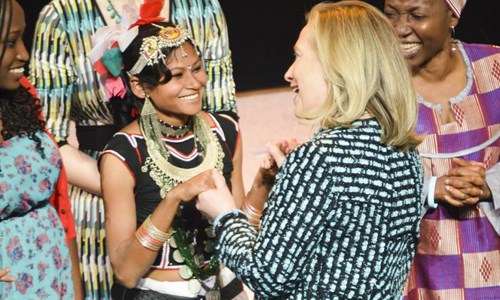 Through Girl Rising, audiences have the chance to follow Suma's journey as a Kamlari (indentured servant), and watch as education helps set her free. But escaping life as a Kamlari was just the beginning of Suma's story, and since filming, she has continued to thrive. Now ending the 10th grade and preparing for the School Leaving Certificate Exam (a highly-competitive national exam all Nepalese students must pass to move on to 11th grade), she is working harder than ever and has her sights set on a career helping other girls like her find their own paths to success. "I am prepping for the exam with all my heart," she told our team last month. "I want to stand on my own two feet and this exam is the first step towards that goal."
In order to ensure Suma is ready for the exam, she and her classmates from the Girls' Education program in Nepal's Bardiya region are staying together at a boarding house near school and attending coaching classes. "Suma's house is far from the school and she used to spend more than two hours every day commuting," says Tripti Chaudhary program associate for our Girls' Education program. "The time she once spent commuting she now utilizes for preparation."
Although she has put it on hold to focus on exam prep, Suma is also resolute in her desire to continue advocating for the end of the Kamlari system in Nepal. "It is important that the community understands why education is so important," she says.
As for her song, which will now be heard by movie-going audiences around the world, Suma says she has continued to write more over the past few years. "My songs have always centered me," she says. "They tell me where I have been, where I have come from and how far I have to go."