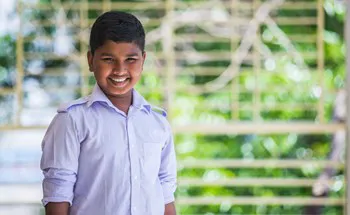 Help Eradicate Illiteracy
Amidst the towering skyscrapers of Dhaka is a small, one-room home where 12-year-old Arif and his family live. While the bare walls lack access to sunlight, they are adorned with a few letters of the Bangla alphabet–a symbol of young Arif's journey towards literacy. By 8 a.m. his father goes to work at the family tea stall, his mother heads to her job at a garment factory and young Arif walks to school through the bustling city. Accustomed to the route, he waves to familiar faces, including children his own age off to work at garages or workshops. The school day ends, but Arif's list of to-dos are hardly over. After a brief break, he heads to his four-hour shift at the family tea stall, temporarily relieving his father from his morning to midnight schedule.
"I make tea, clean cups and saucers, serve cakes, banana and biscuits. I make around 100 to 120 cups of tea, collect money, count them, and put them in the till. It's a huge task, but I am used to it," says Arif.
The first in his family to read or write, Arif lacks homework help. His father, Hamidul, grew up in a rural village of Pirgang, Thakurgaon in Northern Bangladesh. After losing his father at just one years-old, Hamidul was the only earning member of his family and worked to support his mother and three siblings.
"I had to work very hard to be the manager of our family from the very early days of my childhood," says Hamidul. "I've never been to school. Since we were brought up in a rural village, education was not that important for us. None of my family went to school. We worked in the field as farmers, grew crops, caught fish from the pond and sold it at the market. This is how we lived in our village."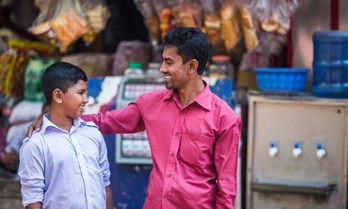 After moving to the densely populated and impoverished city of Dhaka, Hamidul thought his son would be swayed by other local children who commonly drop out of school to work at garages, workshops or garment factories.
"I hoped my son would not be like us working in a tea stall or garments. I hoped that he would study hard for a better future," says Hamidul.
Despite the family's emotional encouragement, Arif struggled with his studies and found himself falling below reading and writing benchmarks. He also occasionally missed school due to either caring for his little brother, or roadside flooding during the rainy season. Yet, his family couldn't afford the tutoring and supplementary resources for him to catch up in class.
Arif struggled with reading and writing and had little success until he enrolled in Room to Read's Literacy Program in 2016. While the program generally focuses on 1st and 2nd graders, the school's literacy coaches and librarians couldn't help but notice his burgeoning desire to learn. Through their additional support Arif learned strategic tools that improved his reading comprehension, such as how to synchronize letters of the alphabet. This helped him increase his words per minute and read different storybooks, giving him new ways to engage with words. For Arif, these were more than stories, they were gateways to possibility–tales he looked forward to reading after his day-to-day duties fell away.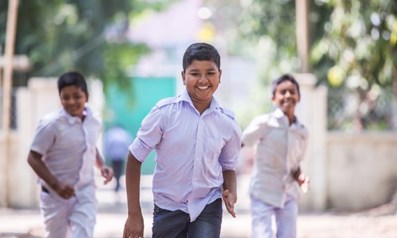 "Every Thursday, I borrow books from the Room to Read library and read them on the weekend. When I work at the tea stall, my mind stays at home reading those books. They help me imagine so many things and now I have a dream for my future," says Arif.
Pushing past barriers, Arif is determined to graduate secondary school, attend university and hopes to become an engineer one day. Needless to say, his love for reading and passion for his bright future has made his parents and community proud.
"My son shows his thrust for education all the time. He reads different books attentively at home and he's very positive compared to other children in my community. I think his education and reading habit motivated him in this way," his father says.
Room to Read's presence in this school was made possible through our partnership with the IKEA Foundation and IKEA's Let's Play for Change campaign, which supports a child's right to play and develop. Arif is just one of the 11.5 million children who have found hope and inspiration through access to Room to Read's high quality instruction and libraries. You can help us bring more books to story lovers like Arif by supporting our work in Bangladesh and beyond.