Nomonde's main job is helping our partner schools develop their Room to Read-supported libraries over a 36 month period — from initial set-up to the establishment of a self-sustaining operation that can, at the end of that time, function on its own.
As a facilitator, Nomonde does this through regular support visits to the school and workshops for librarians and educators on topics such as book checkout, book classification and library activities. "The workshops are a great opportunity to show teachers how to integrate the library into their daily lesson plans," she said.
Facilitators also conduct demonstrations to teach librarians and teachers effective strategies for developing a habit of reading in children. "The exercises benefit both educators and students who start to see the library as a resource to enrich their learning," remarked Nomonde.
In her district of Gauteng, Nomonde supports 37 Room to Read libraries. During support visits she measures how well each library is progressing along a scale of 16 indicators that run the gamut from how well the school is adhering to library activities to whether the school has developed a sustainability plan. Any gaps in development are addressed with action plans.
Room to Read also uses the data to track things like the number of books checked out by each grade and what kinds of books are the most popular. Over all, this system allows Room to Read to monitor its libraries from a bird's eye perspective while the facilitators use it to create tailored development plans for each school.
In addition, Nomonde meets with parents and community leaders to emphasize the importance of their engagement in ensuring the best educational outcomes for their children. Currently, Room to Read supports five facilitators in South Africa and over 40 globally.
It was during a support visit to Redibone Primary School's library that Nomonde discovered gaps in book leveling and classification. "I made it a point to train Thabang, [Redibone's volunteer library assistant] in leveling, classification and library activities," she remarked.
Thabang Sithole said he appreciates the support and guidance of a facilitator. "Since Nomonde took me through the levelling process I'm confident I can match students with the appropriate books," he said, "and I'm excited to see changes in their reading abilities as they move from one level to the next."
Books on display at the Room to Read library at Redibone Primary School in South Africa. Room to Read works with local authors, illustrators and printers to produce its books in country.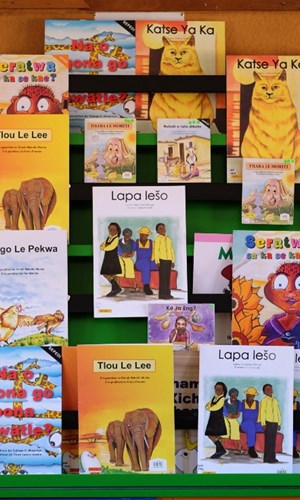 Nomonde's proudest moment came at a school in Limpopo where, she said, the teachers didn't understand the importance of the library period — dedicated time when teachers take their class to the library for reading activities with the goal of instilling in their students the habit and enjoyment of reading. Instead teachers would leave the students in the library unattended.
"Since the teachers read aloud in class they didn't see what the difference was doing it in a library," said Nomonde. "The difference is it's more fun. You're not rushing to finish a syllabus and you can make the book very interesting, dramatizing the characters and making sure everyone is participating.
"Also, unlike the government-issued books, the books in our libraries are very colorful and have great illustrations," said Nomonde. "Already, a child can't wait for the teacher to read the story."
And how did the teachers react?
"They were in such disbelief!" Nomonde said. "All the teachers were amazed that learning could be fun. And they were surprised that all the interesting material I was using came from their own library."
Her little demonstration resulted in a massive change. "This school has become the most highly functioning of all my schools," Nomonde said. "They've even started promoting the habit of reading and the importance of libraries to their community, which officials from the Department of Education were impressed to see." Now whenever Nomonde visits the school, she said she always finds a class in the library.
Nomonde believes her supportive efforts as a facilitator have definitely paid off. "The teachers realize the library activities give them a chance to model reading to their students," she said. "They have seen the magic of storytelling as they bring the stories to life by dramatizing them. As a result the book checkout rate is increasing."