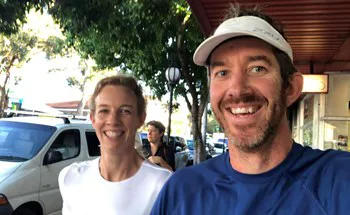 When was the last time you overheard a teen girl comfortably talk about menstruation?
October 19, 2018 marks the annual 10km Race that will reveal who Sydney's Fastest Executive is. Among the runners flying across the finish line will be Scott Farquhar, the co-founder and CEO of Atlassian.
Moved to improve the state of global education, each participant will be raising funds with the help of their organization, friends, and family. The event aims to raise enough funds to teach 3,000 children to read and write. 
"Room to Read is helping millions of children who otherwise would never learn to read or write, or even sit in a classroom, reach their potential and break the cycle of poverty," Scott said. "We are actively working together to reduce the 250 million children lacking basic reading writing and numeracy skills today. I'm running because I believe we can drastically reduce this number and I'm hoping the race inspires other Australian corporate offices to get on board."
Business Mind with a Global Heart
Atlassian donates 1% of profit, product, equity, and employee time to charity, helping thousands of children in developing countries receive an education. In 2011, Scott was awarded the Corporate Social Responsibility Award by the Young Presidents' Organisation (YPO). In 2015, Scott helped spearhead Pledge 1%, a corporate philanthropy movement dedicated to making the community a key stakeholder in every business. 
"We believe providing someone with an education is providing them with the keys to unlock poverty. Room to Read is a fantastic organization that is making a real difference in hundreds of thousands of children's lives around the world - who wouldn't want to support such a cause?!"
Education as Motivation
New to the racing world? Follow Scott's lead! He's using the event to motivate him to run and swim three-four times a week and maintain a healthy diet. 
Let's help Scott cross the finish line! Every USD $50 dollars donated teaches one eager young learner how to read and write for a year. Donate to Scott's campaign, or start your own team here.