At 14 years old, Kurlithlimli has lived in the same village her whole life. She has three older siblings, but since her parents' divorce, she has lived alone with her father, who works as a farmer and participates in local politics.
Kurlithlimli's day typically starts at 6:00am, when she prepares for school, which is a short, 15-minute walk from home. At school she excels in science, physics in particular. "I find it very easy to understand," she says with a smile.
Physics is not only fun for Kurlithlimli, but an important step in achieving her dream of becoming an engineer. "I think Tanzania needs more female engineers," says Kurlithlimli, who notes that all the engineers she has seen at the road construction site near her home are men. "I hope that when I become an engineer I can inspire more girls to join the profession," she says.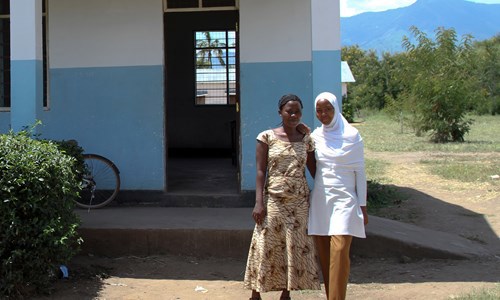 In her daydreams, Kurlithlimli sees herself owning a successful business and engineering skyscrapers in Tanzania's cities. Her dreams, she says, help her remain focused in school. "Education is the key to success in life. If you want to do something with your life, you have to be educated."
After school, Kurlithlimli and her classmates often participate in life skills lessons before heading home. "I enjoy the self-awareness sessions, which help me plan my future and set goals," she says, explaining that the training has helped she and her friends avoid common roadblocks like early pregnancy.
When she arrives at home each day, Kurlithlimli gets started on her chores: making dinner, fetching water and cleaning the house. Afterwards, her father helps her with homework. Since he cannot speak English, she translates her questions into Kiswahili so they can work on them together.
One day, Kurlithlimli hopes she can repay her father for his support by becoming an engineer and earning enough money to buy a house for them. Until then, she continues to work hard in school and listen to Tanzania's Minister of Infrastructure on the radio for inspiration. "He is an engineer and I have heard him give speeches in front of Parliament," she says. "I like his integrity."
Meet Kurlithlimli's trained mentor, Upendo Mchau, in a blog post from March 2013.
Learn more about our work in Tanzania and our Girls' Education Program.