Amphone's parents were both farmers in Ban Kern, a Lao village far from the capital of Vientiane. They were extremely proud when their daughter graduated from university and became a teacher.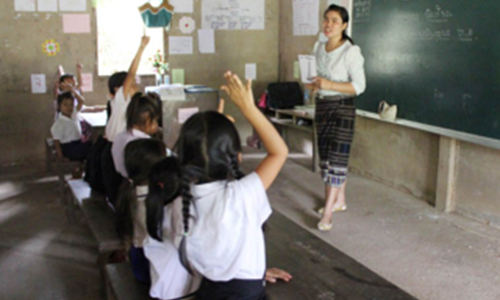 Amphone in front of her class. When she first accepted the job of 1st grade teacher for Sikhounmueng Primary School, Amphone remembers being extremely nervous. "I was a very quiet, shy and reluctant teacher," she says. "I always wanted to create a fun atmosphere in my class, but I did not know how." The environment was stressful, and she felt enormous pressure to fly through the curriculum quickly. "Every day," says Amphone, "we, the teachers, pushed our students—aiming only to finish all the lessons in the textbook before the semester ended."
"More than half of my students could not read," she states bluntly, recalling how many of the children merely memorized the words in the textbook. "They were unable to decode anything if the word was in another context."
Students identify letters during a classroom activity.In 2009, Sikhounmueng Primary School was selected to join our Reading & Writing Instruction program, which was in pilot phase at the time. As the school's 1st grade teacher, Amphone was sent to participate in Room to Read's in-service training along with other teachers in the area. When she got back to her classroom, she immediately started applying the techniques she had learned. "My students just could not stay sitting," she says. "They were competing with each other to answer my questions and have the chance to write on the blackboard." Their enthusiastic reaction was an indication of what was to come.
Amphone proudly reports that she has yet to miss a training session since joining our program, and that her hard work has already paid off. Now six years into her career, the young teacher reports that 90% of her students can read simple words well, even when unfamilair. She watches with pride as they decode the sounds one-by-one. At the mid-point in the year, she says, although most are not yet able to read full sentences, she can see them make progress every day.
Amphone works with her students on separating the sounds in a given word.Joe, one of her 6-year-old students, reports that Lao language is his favorite subject in school. "I like it when we show the different sounds in a word by clapping," he says. Mee, another student in the class, prefers phonics games where she and her friends search for different letters around the classroom.
Amphone says that the Reading & Writing Instruction program has helped her to be confident in her role as a teacher. "It is so fascinating to see the radical improvement in their reading skills," she says. "It makes me feel so happy."
Once unsure about her choice of profession, Amphone is now a committed and well-respected educator in her community. "Every day is not just another day of teaching for me anymore," she says. "Each day I see the students' smiles, laughter and learning and I realize that this is what I want the most out of my career."
Learn more about our work in Laos and our Literacy Program.