Mentoring helped paved the way
When Pooja woke up in the hospital she saw herself in the mirror. To treat her injury, the doctors had shaved off her long, black hair. For Pooja her hair was part of her identity. She couldn't stop her tears. How could she face her classmates at school?
Her family tried to comfort Pooja, slowly introducing her to the temporary shelter where they now lived. "I am blessed to have new life," Pooja said. "When I returned back, my mother welcomed me like a bride." But they worried that Pooja's injury would lead to memory loss or other cognitive problems.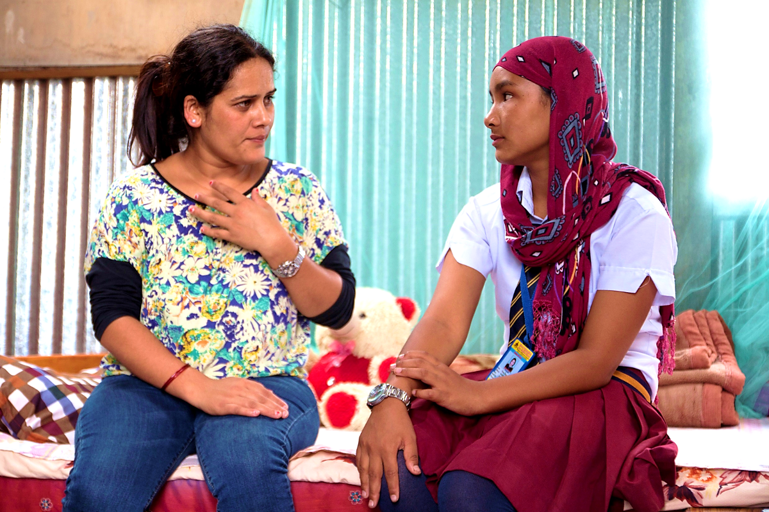 Room to Read Social Mobilizer Sumita counsels Pooja after the earthquake.
Seeing the fragile state Pooja was in, Sumita Dhakal, her Room to Readsocial mobilizer, went to her school to talk with her teachers and friends about how they could help Pooja recover. "I wanted to make sure no one asked her what had happened to her when she returned to school," Sumita said.
Sumita acts as a mentor and advocate for the girls at Pooja's school who participate in Room to Read's Girls' Education Program. The global program ensures girls in low-income countries have the support they need to finish secondary school — a time when they're at risk for dropping out due to economic, safety and cultural challenges.
Sumita regularly visits the girls where they live in the village of Sankhu, which was heavily damaged in the earthquake, providing them with psycho-social counseling and support. Although none of the girls sustained the serious physical injuries Pooja did, most lost their homes and were living in temporary shelters. Despite this, Sumita was "impressed with how bravely they faced the disaster with such courage.
"I believe our mentoring and life skills lessons helped prepare them for this moment," said Sumita, the latter referring to the program's component that teaches girls a range of skills to help them navigate key life decisions, like how to overcome challenges and express their needs.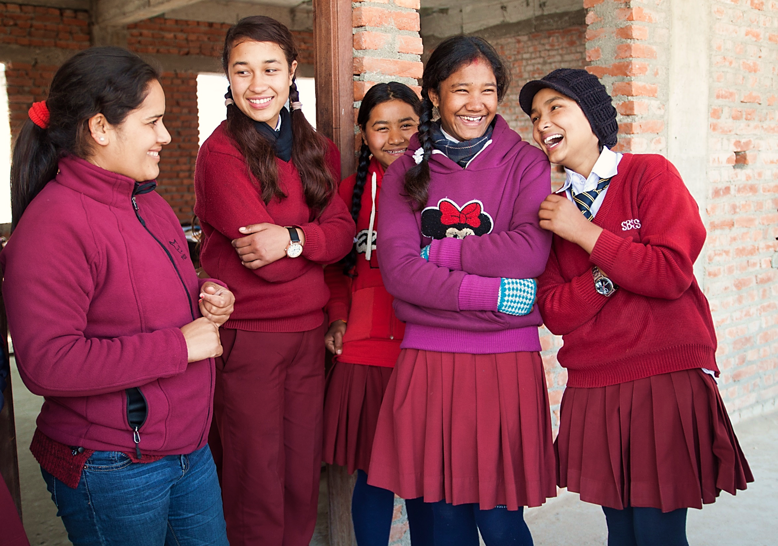 Sumita (far left) and Pooja (far right) with her friends in Room to Read's Girls' Education Program.