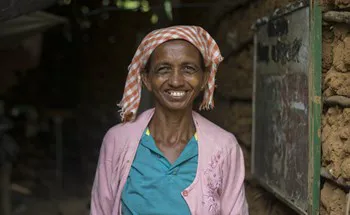 Wedged between a forested mountaintop and a wildlife refuge sits a lush village where Sudarmawathi and her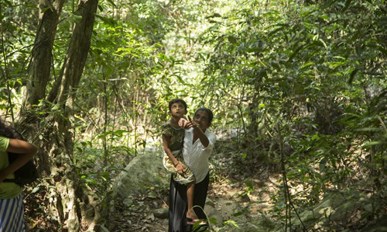 three daughters lived. Enwrapped in the jungle, this mother faced steep challenges when it came to accessibility. Lacking car-friendly roads, she walked 25 miles daily through the dense jungle to ensure her daughters reached school safely. She did this day in and day out for the last nine years - that is until a Room to Read social mobilizer came along.
RtR: Tell us about your upbringing?
S: Even though I studied until advanced level in secondary school, I did not have any skills to make decisions in my life. I didn't dream big or aspire in a way where I could get myself out. I looked after my sister's children after I left school and then started working on the field cultivating corn. I got married later and had children.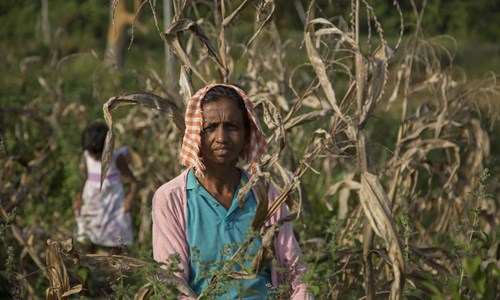 RtR: What was your dream as a child?
S: I thought I could be a teacher, but didn't have the resources, nor did I know how I could be one when life needs you to start working. I didn't know any better. I didn't have life skills or understand life the way I do now. I started working. I got married much later than a lot of people, but I was doing my best to survive. If I had something like Room to Read, I would have been in a much better position with my children. Sadly, I did not.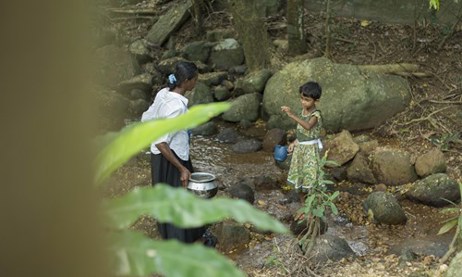 RtR: What challenges did you face before Room to Read came to Buddama? 
S: We lived very far from school. There were no schools in our area, so I walked miles to figure out where I could send my children. That's how Buddhama came about.
My oldest Umesha was a very shy girl and she would be so tired by the time she got to school that I felt she would just be lonely in school. In fact, she would feel bad about how much I would suffer to get her to school. She would think about it too deeply and it used to affect her. I would tell her not to think about it. I told her I will keep doing this until she finishes her studies and does well for herself. But she would feel sad. When Room to Read came in, this started to change.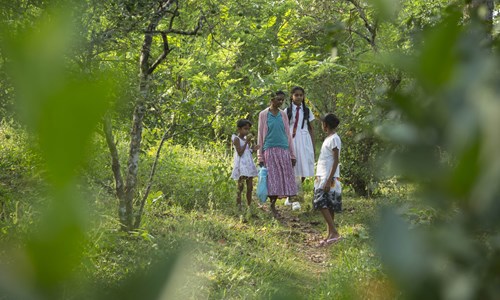 RtR: How did Umesha's social mobilizer help your family?
S: With the help of her social mobilizer, Umesha began to realize how she should make the most of what I am doing – to start studying and grow. She also had someone to talk to. I know she feels bad telling me [her worries], so I am glad she had her social mobilizer who she could open up to.
In fact, she opened up and informed her social mobilizer how my husband would sometimes beat me up when he was drunk. I used to bear with it because of my children. 
[Editor's note: Sudarmawathi's husband has since stopped drinking and gotten much better due to the intervention of Room to Read's social mobilizers.]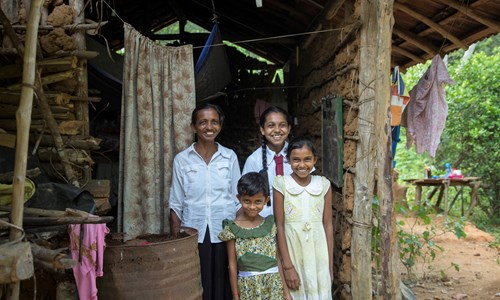 S: Room to Read has done more than what they initially arrived to do. Her social mobilizer not only worked with Umesha intimately to help her out, but she also got the students, community and the district secretariat in Monaragala to help my family find a house close by.
Today, we live just 500m away from school thanks to her social mobilizer's hard work. Umesha is doing really well in school now and she has lots of friends.
I continue to work hard and earn as much as I can, so I can continue to feed my children and I will continue doing so until they are all happily settled.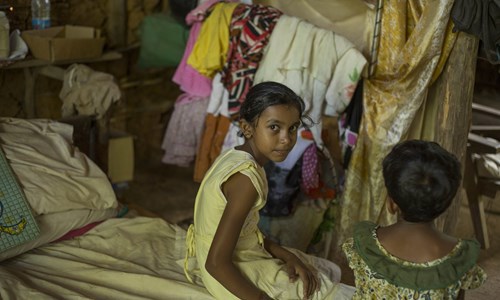 RtR: What is your hope for your children?  
S: That they will be very educated, think positively and go after big dreams. Not to settle and realize that they can do much better than my family or I ever did. I just want them to be comfortable in life and have a peaceful one with not as many worries as me.
How do you feel about your mother?
Umesha: I am very thankful for my mother and all that she has done and continues to do for us. She is a huge role model and because of how hard she works,  I know how important it is for me to educate myself and pursue a better life for me and my family.
Our Girls' Education Program not only helps students, it ripples out aid to the entire family. Donating just $25 a month keeps girls like Sudarmawathi's daughter in school for an entire year.