Outside of a one-room wooden school building, you can hear the sound of giggling and children spelling out words in Khmer. There is something in this classroom that is missing from so many classrooms in Cambodia and in many classrooms around the world: Joy. Excitement. Fun. Enthusiasm. All of which amounts to an eagerness to learn. This is no happy accident. It is the direct result of a teacher who is, herself, passionate about learning.
Although Sin Sum had already studied to become a teacher, she says that the she did not learn how to engage her students until she received training from Room to Read.
"I am so proud and delighted!" says Sin. As she flips over the word cards, students eagerly try to read the words as if competing in a game of charades.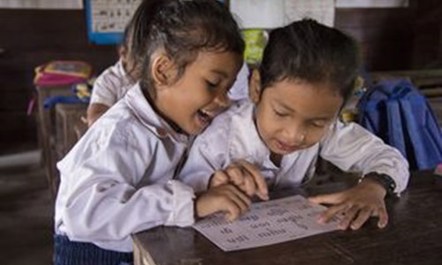 "I love my teacher. I love the class and the games that we play especially the one that teaches us about different sounds," said Laiheang, an active little girl in the class.
"When I see my students working hard, I see myself when I was their age. It gives me even more encouragement to do my job as well as I can," says Sin.
This is not the first time Room to Read has intervened to help Sin follow her passion for learning. Nine years earlier, Sin was a struggling student herself. When her single mother became sick and her only sister died during pregnancy, it became nearly impossible for Sin to stay in school. As a part of the Girls' Education program, Room to Read mentored and supported Sin through this hard time, enabling her to graduate and continue studying to become a teacher.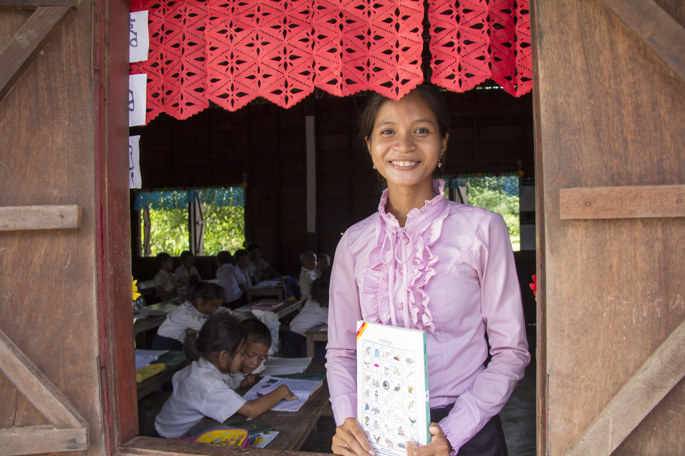 Sin outside her classroom.
"Without Room to Read's support, I wouldn't be here," says Sin. "I still remember the first time that I got the bicycle Room to Read gave me to get to class. I was so excited that I carried it up the stairs every day to keep it inside the house."
Today her teacher's salary helps her take care of her mother, but she's not done learning yet.
"Now that I can help early grade students learn to read through Room to Read's Reading and Writing Instruction trainings, my future plan is to pursue more studies in the education field. I want to keep on developing myself so I can give back to society as much as I can."