Support Sofia's Fundraising Team
It's not every day a 7th grader takes on a $20,000 challenge to fund an entire library. Fortunately, San Francisco-based student, Sofia Carmen, goes above and beyond most. As a child, Sofia would walk the library every week, picking out as many books as her arms could carry. So, when she discovered that hundreds of thousands of children in developing countries lack local libraries she felt compelled to act.
"Reading is what I turn to when I'm feeling lonely or in need of a bit of excitement. I have always thought of books as something that I will never run out of," says Sofia. "I feel everybody should be able to experience walking into a building that holds nothing but books…I can't imagine a world without it, yet I know that many children don't have this privilege. So I decided to do my part, and make sure everyone gets to experience what I did."
Sofia and her classmates at the bake sale fundrasier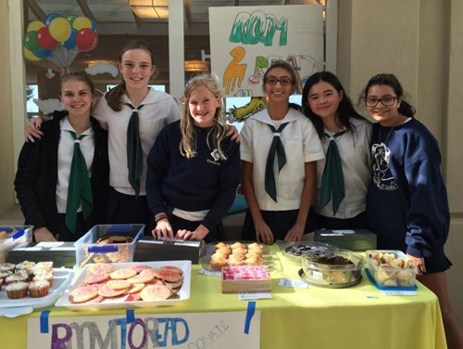 Sofia realized if she rallied a team of twenty each person could raise $1,000 to reach their $20,000 goal. Since her planning days she's built a team of eleven and still hopes to have nine other do-gooders join. These generous 7th graders have taken on a range of fundraising routes from bake sales to donating birthday money. One team member who rides horses donated her prize money, while other girls have taken up babysitting and tutoring jobs just to fund the cause. Their April bake sale raised $740 and a recent Christmas merchandise sale tacked on $535, bringing their total to approximately $2,000 as of early December.
With no shortage of ideas Sofia also hopes to partner with a bookstore for a local fundraiser and host a car wash. The team also has planned a hot chocolate stand in Golden Gate Park for January. They even started their own blog, raising awareness while cataloging their journey. Sofia and her friends have had a blast planning fundraising activities. Yet, what she finds most rewarding is watching their donation tally grow and imagining all of the children who will be helped by the proceeds.  
"It is rewarding seeing how many people want to help us with our campaign and how supportive our school is being," says Sofia. "Once we are done and the library has been built, I hope we can go visit it."
Yet, Sofia's efforts haven't come without challenges. She says the toughest part of the project is spreading the word outside of her small community of parents and teachers. To raise awareness each girl takes turns writing a blog entry. She hopes their online presence will spark interest from fellow library lovers drawn to the cause for the same reason she was–to bring books to children who need them.
You can help her bring a library to a Room to Read school by donating to her campaign, joining her fundraising team, or sharing her blog. Keep up the great work, girls–we're rooting for you!