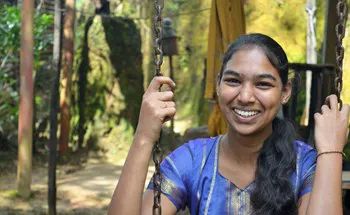 Watch Thirumagal's Story
With so much going on in the world, it's hard to know what life is like for students in different countries experiencing different life circumstances. That's why we're spotlighting a few key facts you need to know about the state of education in Sri Lanka and how Room to Read's Literacy and Girls' Education Programs are helping.
1. One in four women in Sri Lanka's plantation communities are illiterate.
Room to Read has joined the effort to combat literacy gaps in Sri Lanka's education system by ensuring each student in our Literacy and Girls' Education Programs have access to the quality education they deserve.
Twenty two year-old Thirumagal Kuvendran is a prime example of how our life skills training enables girls in plantation communities to not only become literate, but thrive in school and beyond.
"Life skills taught me that there is more to life than I am aware. The Program showed me the light towards a better life through education, and so I started to work hard and do better," says Thirumagal. 


2. Despite the first female prime minister being from Sri Lanka and women winning equal wage in 1984, women continue to be treated as inferior to men.
Women rarely, if ever, assume positions of power in the tea sector, and they are expected to work almost twice as many hours per day as male laborers. At Room to Read, we understand collaborating with local governments in the communities we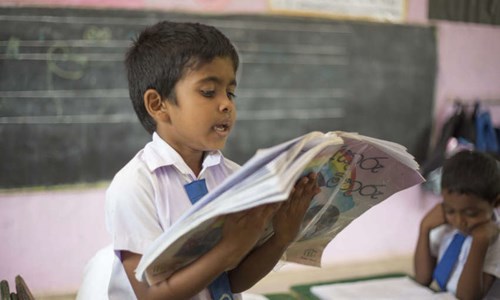 work in is crucial to creating systemic change. We work with the Ministry of Education and the communities of the schools to teach girls from the age of 11-18 to become confident leaders of tomorrow and negotiate key life decisions.
3. In 2017, 84.2% of the children who sat the National Grade 5 – Government Scholarship exam got a zero on the essay question – the only question that tests a child's reading ability.
Our Literacy Program has worked hard since 2005 to build up the reading habit and comprehension skills for students in Sri Lanka. By using an evidence-based approach, our focus is on ensuring every child is able to read, write and comprehend by the time they leave grade two. Currently, we have supported approximately 1 million children in Sri Lanka. 
4. Sri Lanka is 3rd in the world for Acute Malnutrition followed by South Sudan and Djibouti.
Room to Read recognizes students from low-income families face additional challenges and are more likely to drop out. Furthermore, many women are uneducated, and tend to be less focused on their own health, and the health of their children. Therefore, Room to Read's life skills curriculum in Sri Lanka focuses on nutrition and build trusting relationships to encourage girls to make smart long-term decisions.

5. Sri Lanka has a female population of 52% compared to men of 48%. However, only 36.2% of the labor force is women.
Room to Read is combating gender inequality in the workforce by equipping young girls with the skills necessary to negotiate key life decisions through four components: life skills classes, mentoring, targeted material support, as well as family and community engagement.
Want to help support the next generation of students around the world? Become a monthly donor here.