There are already countless repercussions of the COVID-19 pandemic, which has brought the world to a halt. One of the most widespread consequences is the broad shift to online remote education. As a global community, we must strive to compensate for learning loss through online modes of education. However, given the digital divide present in many low-income communities, this pandemic has pushed underresourced communities even further to the periphery.
In South Asia, a vast majority of adults and children do not have access to internet. While 24% of Indians own a smartphone [1], only 11% of households have access to any type of computer [2], which includes desktop computers, laptops, notebooks, netbooks, palmtops or tablets. In addition to these imbalances, there are even further levels of disparity in the digital divide across class, gender, and region.
Room to Read continues to conduct its Literacy Program in low-income communities across Nepal, India, Sri Lanka and Bangladesh, in addition to several other countries around the world. Here are four of the distance learning initiatives our teams have implemented:
1. Pre-recorded Messages:
In India, our teams in Uttarakhand and Chhattisgarh are piloting pre-recorded Interactive Voice Response System (IVRS) messages. Using a toll-free number, people with access to a mobile phone can listen to the audio messages with a click of button. These pre-recorded messages provide tips for parents on promoting literacy at home as well as reminders for literacy radio programs being aired, so they can tune in with their children. Pilot testing is underway to explore the possibility of additional message options, such as listening to stories or playing games.
2. Radio:
Recently, Room to Read established a partnership with a private radio station in Sri Lanka. The station airs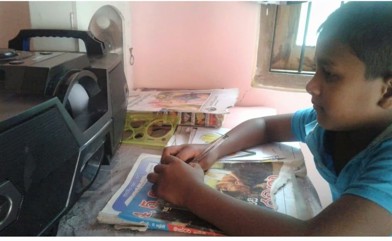 short radio clips for parents and caregivers which talk about the importance of conducting reading activities with children. These clips are aired as part of a popular daily program for children and parents, and are available in both official languages of the Sri Lanka, Sinhala and Tamil.
The first set of clips focus on the importance of reading activities, whereas next set of clips explain how to conduct reading activities at home. Given the reach of the radio station, Room to Read is ensuring that parents and caregivers have the necessary tools to reinforce the love and habit of reading at home while schools are closed.
In the state of Uttarakhand in India, community radio is quite popular. Given this, our Literacy Program team is securing a radio slot to air audio messages on reading and literacy. Due to our strong relationship with the government, this has been approved by the government, which has been covered by local media.
We are implementing similar initiatives in our other program countries as well, such as Nepal. Given the low internet connectivity in rural Nepalese communities, Room to Read is developing programs for radio, which will include stories and reading skill instruction.
3. Television:
In Bangladesh, nearly 50% of children have access to TV [3]. Room to Read has had a partnership with a popular Bangladeshi children's television channel, Duronto TV, since 2018. The channel airs read-alouds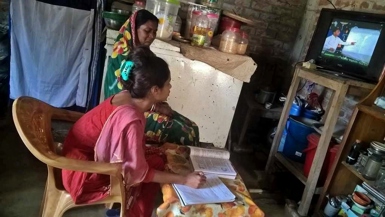 with Room to Read's children's books on a show called "Colourful Stories". These read-alouds are so popular that they've even been aired during prime time. The episodes feature stories from Bangladesh as well as other countries. These read-alouds have been extremely useful during the COVID-19 pandemic, as many children are not able to attend school but have access to TV at home. Reading is one of the key activities for building literacy skills, and with these read-alouds, students can continue to strengthen their reading capabilities from home.
Given the wide reach of television across South Asia, Room to Read is working in India and Sri Lanka to collaborate with TV channels with maximum outreach in rural areas. The content for these channels includes storytelling videos and tips for parents to support literacy amongst their children while they're at home.
4. Worksheets & Literacy Packages:
While it's difficult to determine when children will return to school, we do know that this will likely happen in phases. This could mean staggered attendance, reduced school hours, and even introducing free food programs during the initial phase of loosening lockdown restrictions. In anticipation of these scenarios, Room to Read is developing worksheets and literacy packages which will be disseminated to children as soon as they return to school. These worksheets will help children review key literacy concepts with minimal guidance required from parents. They include reading and writing activities to prepare children to return to school, and will be offered at government schools across all of our program countries in South Asia.
These worksheets have been developed in addition to our digital initiatives, such as Literacy Cloud, an online library of Room to Read's children's books, as well as read-aloud videos and professional development resources for educators. Given our focus on government engagement, we are also partnering with governments to contribute resources to government websites and digital portals.
Room to Read's Literacy Program focuses on targeting children in low-income communities who need these educational interventions the most. These strategies have been developed with these children in mind, with consideration for their access, or lack thereof, to digital resources. Government schools cater to the most marginalized communities, and it is Room to Read's mission to work with these children. During this crisis, we are working harder than ever to ensure that the most vulnerable children are not left behind.
[1] https://www.thehindu.com/news/national/24-pc-of-indians-have-a-smartphone/article26212864.ece
[2] http://mospi.nic.in/sites/default/files/publication_reports/KI_Education_75th_Final.pdf
[3] Source: Multiple Indicator Cluster survey