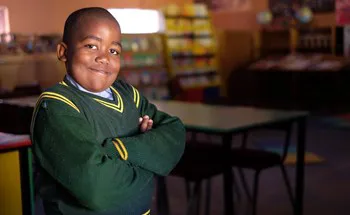 Support Students Like Lesedi
Have you ever wondered what it's like to go to school in another part of the world? At Room to Read we have the privilege of seeing a wide variety of global perspectives, and we want to share one of those with you.  
You may not be able to pack your bags and fly across the world. So, today we're sharing a glimpse of what school is like for students in South Africa, one of the 14 countries where Room to Read has made an impact.
Did You Know...?
Room to Read has joined the effort to combat racial inequality in South Africa's education system by ensuring each student in our Literacy Program has access to the quality education they deserve.
Eleven-year-old South African student, Lesedi, is a prime example of how libraries motivate early learners to stay in school. After his mother passed away, Lesedi has looked to the library as a safe, inspiring place to let his imagination take flight.
The week we spoke to him he was reading, "Heroes in Training" by Joan Hulab -  a story he says aligns with his dream of becoming a scientist. 
"I started enjoying reading in third grade. My aunt was reading a magazine and I wanted to know what she was reading. Now, I read with my family. I want to show them that when you read a lot, you improve your vocabulary," says Lesedi.
Our Literacy Program has responded to the dire need for school libraries, teacher training and reading materials across South Africa's eleven official languages. We have implemented our program in three different regions — Limpopo, Mpumalanga and Gauteng — all of which contain both rural and urban areas where we are able to have the largest impact on communities. Since 2006, we have reached more than 422,000 students and distributed over 965,000 books here.
Room to Read recognizes students from low-income families face additional challenges and are more likely to drop out. We revamp learning environments to get students excited about education and keep them on the right path. Gosmia used to be indifferent to books and struggle in the classroom. That all changed after we launched our Literacy Program at his school where he experienced his first library. Teeming with storybooks, the new space transformed his outlook completely. Now he proudly holds the title of library monitor.
"I have to be a role model. I tell my friends to read as much as I do, because it's nice when we read to one another to see how well we are doing." - Gosmia
At Room to Read, we understand collaborating with local governments in the communities we work in is crucial to creating systemic change. Our latest project in South Africa partners with the country's Ministry of Education to address the lack of children's reading materials in the country - a necessity to raising literacy rates for all children regardless of their mother tongue! Learn more here.