For Mother's Day, we're honoring all the motherly figures who encourage girls to stay in school. The committed local women who make up our Girls' Education team do far more than facilitate a school mentoring program, they become crucial pillars of support. Offering guidance on situations both in and outside the classroom. Mentors, known as social mobilizers, naturally become inspiring big sisters.
While their primary job is to teach life skills and mentor girls, these incredible women go above and beyond every day with support ranging from helping students find homes closer to school, to standing by girls as they negotiate for school over work or marriage. 
Learn how these three role models from Laos, Sri Lanka and Tanzania have become critical parts of many families: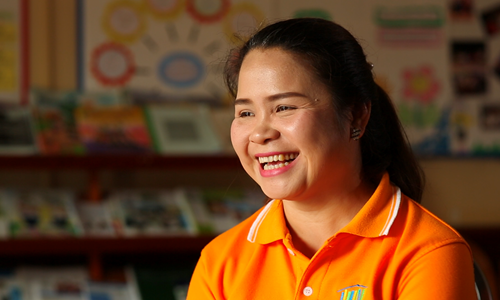 Nine years ago when Phetpasa, a Laos Girls' Education Program officer, returned to her hometown to join Room to Read, she felt like she was finally beginning her life's work.
"When I wanted to continue studying in upper secondary school, my father discouraged me and said I should quit to help my mother sell things. Today, I see many girls in the community that make me think of my past. They want a future. They want an education. They have dreams. And I think, 'Ah, I have been there. I negotiated with my parents. I can know exactly how to help."
Throughout Oudomxay, Phetpasa is affectionately called, 'The Mother of the Girls' Education Program' for her close connection with countless students. She beams with pride when speaking of alumni, including Phimya, a graduate who transformed from a timid student who barely spoke in class to the star of her school who received a university scholarship and is now studying to be a social worker.