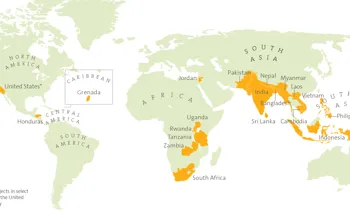 Read: 2021 Year in Review
2021 Year in Review and a Thank You to Our Supporters
Amid the challenges presented by COVID-19, we are proud to share that 2021 was a year filled with an abundance of innovative activities that enabled us to benefit more than 8 million new children in 2021 alone — a new record.  
This work has never been more critical, as the pandemic continues to present educational barriers for an entire generation of children. As 2021 closed, a joint report by UNESCO, UNICEF and the World Bank provided an updated glimpse into the state of education worldwide and charted a path to educational recovery. The report highlighted an array of essential components to the recovery process, including evidence-based strategies, innovative interventions and socio-emotional support — all of which are pillars of Room to Read's approach.  
We are well-equipped to lead these efforts, and we are more determined than ever to help children acquire the skills they need to learn and chart their own futures.  
Thanks to generous, dedicated supporters like you, we are already laying the groundwork to benefit more children, in more geographies, using more innovative methods than ever before.  Your contribution to Room to Read is proof that hope is never out of sight, and that, when education endures, resilience rises. 
We are excited to share our 2021 Year in Review report. Thank you for standing by Room to Read and making it possible for us to benefit millions of children across the globe. With your steadfast partnership, we are ready to make 2022 another record-breaking year.
We invite you to watch the following video to learn more about the results of Room to Read's work in 2021.