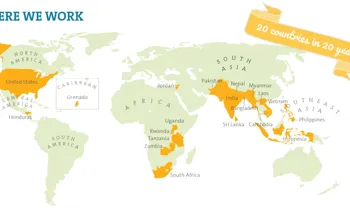 Read: 2020 Year in Review
2020 Year in Review and a Thank You to Our Supporters
2020 was a time like no other. A year that we originally thought would be marked by celebrating 20 years of impact soon became a critical juncture in which the lessons we learned over the past two decades helped us respond to the greatest educational crisis in recent history.
Amid the chaos, our committed investors, stepped up to offer their support while navigating pandemic-related challenges of their own. Because of their generosity, we were able to keep students learning as the pandemic at its peak left 1.6 billion children out of school. Now, we must continue to support distance learning for millions of out-of-school children while also helping students who have been left behind catch up. This is no easy feat. As the pandemic spreads, families who were financially struggling even before the pandemic are increasingly faced with tough decisions. We know from experience that these tough decisions often result in students, particularly girls, dropping out of school. And disrupted education for students in Grades 1 through 3 means they may never develop the skills they need to learn how to read.
If 2020 were a book, it would have ended with a cliffhanger: Will the hopes and dreams of an entire generation of children fade away, along with the opportunity for them to catch up on their studies and master the ability to read?
Together, we will change the story for millions of children in the most vulnerable communities. By doubling down on our key strategies and learnings from the past year, we will move toward our goal of benefiting 40 million children by 2025.
We are excited to share our 2020 Year in Review report. This report highlights some of the most significant and promising achievements that will serve as building blocks for our future success, including:
Adapting our literacy and gender equality programs for remote learning
Significantly expanding our book publishing portfolio to include new languages and themes
Researching ways our gender equality work can serve boys and continue to scale
Engaging with leaders and advocates across the globe to promote our mission
We are so grateful for our supporters' commitment to keeping children learning. Our collective belief that World Change Starts with Educated Children® unites us and makes us stronger. Together — letter by letter, word by word, and line by line — we are creating a new chapter for young learners in which they are equipped to reach for their dreams and become tomorrow's teachers, health care workers, climate scientists and community leaders.