I want to support vibrant classrooms!
Tears rolled down Radhika's cheek as she scanned the destruction sprawled across Shree Kalika Secondary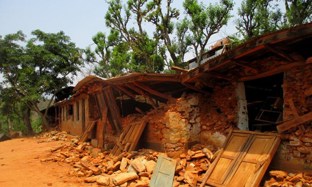 School. Located in Nepal's Nuwakot District, this region was one of the hardest hit in the 7.8 April 2015 earthquake, causing extensive damage to local educational infrastructure. The space where Radhika previously taught classes just a day before, was now reduced to rubble with furniture buried under layers of debris.
In Radhika's school alone, 18 classrooms in five blocks were destroyed, leaving both teachers and students in a serious bind. They had no idea how to begin rebuilding the school, or how to bring students back to crumbling classrooms. Yet, instead of standing paralyzed in fear they took action. Faculty teamed up with the local community to clean debris and resumed classes, albeit under the open sky.
"Only a few students attended school in the beginning," Radhika says. "They were traumatized, some of them still shell-shocked. Even the parents were apprehensive to send their children to school. It was very challenging for us to convince them."
"Now is the time for them to move into a decent classroom with sturdy roof and walls. It will be a good beginning for every one of us."RadhikaTeacher, Shree Kalika Secondary School
Some teachers participated in the psycho-social counseling and training Room to Read offered, where faculty learned how to conduct engaging activities to help children return to normal life. 
Radhika and her team worked hard to create a safe space for students on school grounds. They also held meetings with families to discuss the transition process and how they should deal with post-traumatic stress. While it took time, more and more students gradually returned to their makeshift classroom.
Through the government's relief program, the school set up temporary learning centers as an interim arrangement, where Radhika conducted classes for the next two years. 
Radhika's class in their temporary learning center.
 "It was not easy to hold lessons in a temporary learning center. The weather was a big challenge. In summer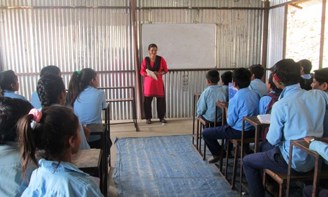 the rooms, which were covered in corrugated sheets, warmed like an oven. In monsoons, pitter-platter of the rain meant the students could hardly concentrate on the lessons," says Radhika.
Shortly after the catastrophe, Room to Read and Dubai Cares, an UAE-based global philanthropic organization, collaborated with the Nepal government to plan a rebuilding effort for earthquake-resilient school blocks. They also raised funds for reconstruction through a global campaign and began rebuilding as soon as the government green-lighted the project. Radhika's school was one of the fortunate sites approved.
Together Room to Read and Dubai Cares are rebuilding 115 classrooms across ten schools in the Nuwakot district, twelve of which are at the Shree Kalika Secondary School. These will not only be earthquake-resistant, but also ventilated and more spacious than previous learning spaces. With more than half of the school's classrooms already complete, eager teachers and students are planning to start the new academic session in safe, newly-constructed classrooms.
"For the last two years, our students have studied in a temporary learning center. Now is the time for them to move into a decent classroom with sturdy roof and walls. It will be a good beginning for every one of us," says Radhika. "We are grateful for Room to Read's support in rebuilding of our school."